June 16 is a cool, grey day in Berkeley, California.
The atmosphere almost feels like a day in the fall, where thousands of fans file into California Memorial Stadium to watch the Golden Bears.
But on this day, it's hundreds of kids on the field for a flag football tournament.
It's the second year in a row the Rams quarterback Jared Goff has hosted his Summer Classic. Goff likes that the kids make memories competing rather than just doing drills they may forget in a couple days.
Last year, Goff held the camp at Marin Catholic High School — his Alma Mater across the Bay. Things have been upscaled for 2018, with nearly 300 kids participating in the festivities at this much bigger venue.
Goff arrives with friend and teammate Tyler Higbee just before the first division of kids begin the tournament. He takes a look at the merchandise for sale, joking that maybe he shouldn't be wearing a hat and shirt sporting his own name. But he likes how they look, complimenting the people running the camp on how the gear turned out.
During a break in the action, Goff takes Higbee on a tour of the football facility — conveniently located at the stadium. It's been about two years since he last walked on these grounds, he says. He points out the things that mean the most to him, particularly the trophy from the Armed Forces Bowl. He threw six touchdowns in that game. It was his last game as a Golden Bear before declaring for the 2016 NFL Draft.
Eventually, Goff takes the touring party to the University Club, located on the top level of the stadium. There's an outside patio, which Goff says probably sports the best view of the Bay.
"You can see Oakland, San Francisco, Alcatraz, the Golden Gate Bridge, and my hometown from up here," Goff says, pointing out where he grew up in Novato.
It's back in the University Club where Goff sits down for a wide-ranging interview about his college days, his thoughts on Los Angeles' 2017 season, and what he sees as the next step for the club in 2018.
Myles Simmons: What does doing this camp mean to you?
Jared Goff: Yeah, this camp is very cool to me. It's obviously back home, where I'm from, and being at Cal where I went to school. And having all these kids out here, and being able to play on the field, and Cal being gracious enough to let us do all this has been awesome.
MS: You had the camp at your high school last year, Marin Catholic. How do you feel now about bringing it to where you went to college?
JG: Yeah, so we did it at my high school last year. This year, we've got a little bit bigger scale. So we brought it here to Cal. And it's very cool — I think we get a little bit bigger fan base for sure with the East Bay over here, and a lot of people that have known me from my Cal days as opposed to my high school days, like we saw last year.
MS: What's it like being back on campus for you now?
JG: Very cool. I don't think I've been here in two years. So it's very cool to be back and see all the same stuff. A lot of stuff has not changed, and a lot of stuff has. So being in the facility here is very cool.
MS: I'd have to think being back here brings back memories, doesn't it?
JG: Yeah, of course. I think walking down the tunnel was kind of when everything started coming back. And then being in the locker room and all that — you kind of remember where everyone's locker is, and all the stuff you guys talked about. It's fun.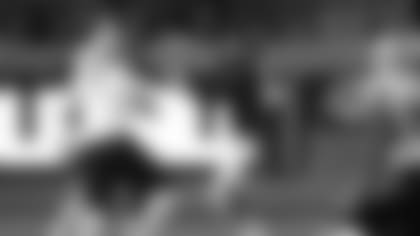 MS: The last time you walked through that tunnel as a player, you came back to beat Arizona State, 48-46. What was that game like?
JG: Yeah, my last time in that tunnel was Arizona State. We were down significantly — I think we were down maybe 21-3, or maybe 24-3, something like that. I remember, I kind of knew that this was my last game. It wasn't public yet, but I had a pretty good idea this was going to be my last home game and kind of was like, "You don't really want to go out that way." And myself and the rest of the team were able to kind of get something going and make quite a big comeback. And we came back and, ultimately, won the game. That game — that one and then the bowl game, which were my last two games here — were kind of the two I'll always remember.
MS: Why is that? Is it the way they went? The way you performed?
JG: I think coincidentally they were the last two games of the season, the last two games of my career. But I don't think that's really why. I think it was being my last home game and going out in that fashion, and being able to come back and win. And then the Bowl game, kind of a culmination of what had been three years of somewhat of a rebuilding program, and finishing that off with a bowl game victory and that being my last game. And leaving the place better than where I came in at, was kind of what I had a lot of pride in.
MS: Wanting to leave it better than it was when you came — what made you decide to go to Cal?
JG: A lot of things — there was a lot that went into it. I only had three options — I had here, Washington State, and Boise State. And both of my parents went here, so I was comfortable with the university, the campus, and everything around it. And had been to a bunch of games, grew up a fan. But at the end of the day, that really didn't sway my decision as much as [Cal being] the No. 1 public institute in the whole world — all that stuff is so great. And it's beautiful here. Obviously, it's a really, really nice city. And all that stuff kind of went into it. And playing in the Pac 12 was always my goal, and they gave me the best chance to do that. And that made the decision pretty easy at the end of the day.
MS: Take us back to when you made that decision and you were coming out of high school. Why did you leave Marin Catholic early to get on campus?
JG: So when I was a senior in high school, I graduated early — I graduated in December to get here in January. And the quarterback spot was open. And there were, I believe, six of us who were competing — and competed all the way up until August. I was named the starter about two weeks before the first game, and started throughout the rest of my career.
MS: What was it like to be a true freshman starter?
JG: Yeah, that was definitely surreal. Being a starter as a true freshman, that was definitely surreal. And you can almost point to my old high school over there across the bay. And one year later, I'm playing here against Northwestern in the first game. And that's another one I'll never forget, that game, because it was like a four o'clock start, really nice weather, sun was setting — and that was kind of the only time we got that weather in my whole career here, as far as timing and the way it looked. But incredible day. We didn't win the game, but it was really cool to get a chance to play here after growing up and all that.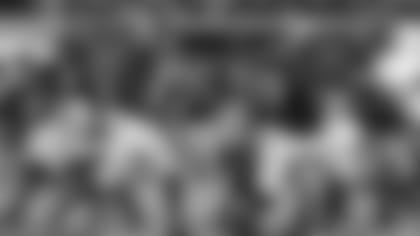 MS: When you had to bounce back from the 1-11 freshman year season, what did that take from you mentally?
JG: It took a lot to bounce back from that freshman season. There were a lot of things I learned about myself, about my teammates, about everything. About football and how hard it is to win. In high school, I was 39-4, I believe. That was our record, we lost four games in high school. It was like, "This is easy — this is how football is supposed to be." And you come here and you lose 11 in one year, and you kind of realize, "Wow, OK, there's a lot more that goes into it." And you start to learn what's important, and what's not, and what it takes to win. And I learned a lot.
MS: We talked about this at this time last year — there are some parallels between the 1-11 season you had at Cal and your rookie year in the NFL. Were you able to draw on that experience as you expected to in your second pro season? How did that work out?
JG: Definitely, I think there was a lot of things I could draw from that. I think, No. 1, would be how far it may feel that you are away from being where you want to be, but how close it can happen. In one year we were able to turn things around pretty good with the Rams. But it took a year and a half, two years at Cal. But you realize, truly, how close it really is if you do the right things, and you work hard, and you do what you're supposed to do — show up on time and everything. But even as bad as it was here that first year, it was still so close and within our grasp. And we eventually did grab it with that last season.
MS: Being a college quarterback, the NFL has to be on your mind. Of course you want to play in the NFL. But when did becoming a No. 1 pick become a realistic goal for you?
JG: Being the No. 1 pick was never really a goal. I don't think that was ever somewhere where I was like, "This needs to happen." Coming out of college, I had a pretty good feeling I was going to be one of the top quarterbacks selected. So I came out and I came out early and went through the whole process. And at the time, the Titans had the [No.] 1 pick, so it was like, "That's not going to happen — they just took Marcus." So that was never really a goal. I wanted to go to a team that I felt comfortable with, a team that I liked, and a team that liked me, obviously. And that happened with the Rams. So that was the No. 1 goal — was to get that. And them trading up to 1, it was kind of a surreal dream-come-true moment. Definitely something I'm very grateful for, but never was the goal to go 1.
MS: What made the moment surreal?
JG: Because that was the team I wanted to go to. I think through the whole process, that was the team I felt most comfortable with. And when they did trade up to 1, I didn't know who they were going to take — it was either me or Carson. But I had a pretty good feeling about it. And ultimately as time went on, I found out it was going to be me.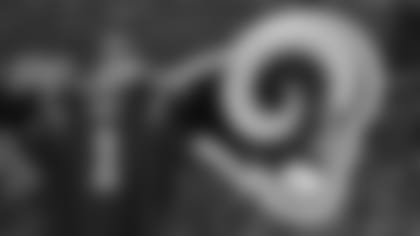 MS: So the last two college games you played— you said it wasn't public but you had started to feel like it was going to be your last time playing college ball. When and how did you start to make that decision?
JG: So I wasn't planning on leaving early on in my junior year — I really wasn't. I wasn't thinking about leaving yet. I was really, truly focused on the season and wasn't really thinking about any of that. And as time went on, and you kind of see what's going to happen. And following the draft, there's some projections and you kind of see where you stand. And I think halfway through the year, after a game, me and my dad talked. It was really a 10-second conversation. He's like, "What do you think?" And I'm like, "Yeah, I think I should go." And he's like, "OK, I agree." And that was the end of it. And that was about halfway through the year, when we kind of thought it was a pretty good idea to leave. And the coaching staff I had at the time was not going to let me come back if I wanted to. The were [saying], "You have to go. This is your time to go. You've done all you can here." So they made the decision really easy.
JG: No, I don't think so. But, again, there are all those projections and you can kind of see where you stand. And, to be honest, you do look at it and you do see, "OK, I kind of know him. I know I'm better than him. I know that guy's good, but I think I'm better than him." So you kind of see where you stand. And at the time, I had confidence in myself that I was the best guy coming out. And that made the decision easy — along with a million other things that went into it. There were a lot of things that went into it, but it all became fairly obvious that I should leave.
MS: We were talking to you a bit go about the Armed Forces Bowl trophy that's at the Cal football offices. What was it like playing in that game knowing, "This is how I'm going out"?
JG: It felt good. We went out the right way. We had a really good game offensively and were able to throw the ball around a lot. I remember coming off the field and being like, 'Well, that's it. That's the last time I'll be in this uniform.' It was a good feeling, though.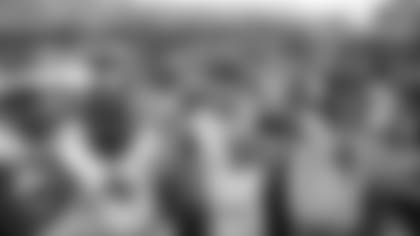 MS: What's the mentality at that point though when you're coming off the field?
JG: A lot is going through your head. You kind of don't know where you're going to be, where you're going to be training, all that — there's a million things going through your head. But I was really just trying to stay in the moment and enjoy it. And I'm glad I did. I truly enjoyed it.
MS: Let's talk about your rookie year for a bit. We'll talk about your rookie year for a bit. Obviously, probably nothing went the way you expected it to in that season. But what did you learn from it?
JG: I think I learned a lot of the same stuff I learned here as a freshman: truly what it takes to win, how hard it is to win — even exponentially how much harder it is to win in the NFL with how great everyone is. And how hard you have to work, what you have to focus on, what to make important, and what you really don't need to spend so much time on. And different things about the speed of the game, protections, different intricacies in-game stuff that I learned. But, ultimately, like I said, just understanding what's important and how hard it is to win.
MS: You didn't start when you came into the league and that was the first time you hadn't been a starter — which there were plenty of storylines about at that time. Looking back, do you feel like that was the right decision for you?
JG: I don't know. I think it helped me learn a lot. I think those nine weeks taught me a lot. And sitting behind Case [Keenum] was incredible. I think you've now seen what he's able to do this past year. I think the world of him. He helped me a lot and so I look back on those nine weeks as very valuable — a stretch of time where I did learn a lot, take some time off with my body, and gain some knowledge.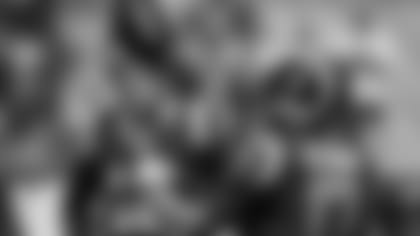 MS: _You had a press conference at the end of 2016_ where you promised to give everything you had to turning things around. Do you still feel like there's a little bit of unfinished business to that based on the way the playoffs ended in 2017?
JG: Of course, yeah. I think we were able to take a lot of good strides last year compared to 2016, and we were able to make some good steps and make the playoffs. But we lost in the first round, and that's not what you want to do. And, really, we didn't really do anything last year. We made some good steps and moved in the right direction, but we didn't accomplish anything. We really didn't fulfill any goals other than winning the division — which was goal No. 1. But after that, you want to compete for a world title. And that's the next step.
MS: Based on that, how motivated do you feel like guys were to get back in the building for the offseason program in April?
JG: I think guys were very motivated. I think offensively we had everybody coming back outside of Sammy [Watkins], and then we added Brandin [Cooks]. So I think we have a really, really good rapport on offense, and understand each other, have really good chemistry. And I was able to build that with Brandin really quickly through the offseason. So we're in a really good place. And then the pieces we added on defense — it's going to be a fun year.
MS: How much have those pieces on defense helped already?
JG: They've been great. Aqib [Talib] — you can really already see why he's been a part of two Super Bowl teams. [You] understand his leadership, his maturity, and what he brings to that side of the ball as far as that. And then Marcus [Peters], his talent and how good he is, and everything you've heard about him and how intense he is at practice and all that stuff. And Ndamukong [Suh is] the same way. I mean, all three of those guys on defense have been incredible as far as additions. But I think, like I said, there's a lot of guys coming back that you have there as well that have molded together for the last two years and will continue to get better.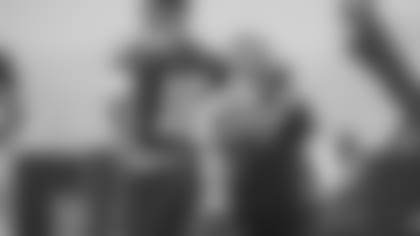 MS: What is it like having all that under Sean McVay? How does he set the tempo, set the culture?
JG: Yeah, ever since he got here, he's done a great job setting that culture. And I think it's only grown since he got here. I think you can already tell he's been more comfortable as time's gone on this year — just as I have bee under him. He's become more comfortable with us. He speaks well, he teaches well. He's able to relate to the guys. He can speak defense just as good as he can speak offense. And I think the defensive guys respect him for that — how much he knows about what they're doing on that side of the ball, even though he doesn't call it, Wade handles all that. But he understands what they're doing and what their intent is, and I think they respect him for that.
MS: What do you feel like you guys have to do during training camp to be ready for the season?
JG: I think we've got to just keep doing what we've been doing. I think we've got a really good foundation laid since we came in in April. And a real good group of guys, good leadership, good veteran guys. We've got everything we need, we just need to put it all together. And, similar to last year — or, I guess, not similar to last year, we have more of an idea of what our identity is and what we're trying to get done and we don't have to figure that out throughout the season. So we've got that going for us as far as heading into training camp. But continue to work hard, continue to have the same mindset that we had last offseason of, "We haven't done anything yet" — because we really haven't. And there's a lot of expectations this year based on what we did in the offseason and what we did last year. But right now, we're 0-0 just like everybody else. And we've seen this story a million times as far as you never know what's going to happen during the season.
MS: You mentioned building an identity — do you feel like you've started to build an identity for yourself as a quarterback in the league?
JG: I don't know. That's not up to me. I think every day, just continue to get better and work hard and hopefully continue to push our team to wins. Do the best I can to be the best quarterback I can be.