Welcome to The Herd!
The Herd is a community of loyal and dedicated super fans who not only want to further their own fandom, but want to influence and inspire the masses to join in. See below for all the information you need as a herd member on gamedays!
Your Mission
The Herd's #1 priority is to ensure their #1 team can feel the love when they hear the thunderous chants and cheers all game long. The Herd comes to every game day ready for the battle ahead – because they know every game and every voice counts. The Herd is amplifying home field advantage at SoFi Stadium and takes pride in extending their reach and impact. The Herd works together to share their knowledge of Rams Fandom and positively influence their section to join the cause.
Your Game Day
The Herd arrives at SoFi Stadium and meets Bighorn Hype in American Airlines Plaza (located on the southside of Level 6) any time after gates open and before Kickoff. This is where Bighorn Hype and the Herd will get energized and hyped for the game ahead! They will also practice chants and cheers.
Once the pre-game rally concludes, the energy has just begun and The Herd is set free to enjoy the rest of the game in their seat. They spend all game on their feet and influencing their section to join in on their chants. They might see Bighorn Hype in the crowd throughout the game – but their focus is on the field and spreading hype throughout SoFi Stadium.

This season, a new interactive squad is coming to SoFi Stadium to unite and support The Herd. We call them Bighorn Hype – an over-the-top, incredibly energetic group of 20 professional hype people and party starters who will welcome The Herd at every home game. They are ready to get YOU ready for the game ahead, and will be a resource for all things hype.

Rams rituals and traditions are vital to the game day experience. These moments start with you, the fans, who make the Rams House the best place to be on Sundays in the NFL. Just like our Rams, every play takes every player to be all in and be a part of the scoring play. Here is your playbook for building a championship game day environment at SoFi Stadium.
American Airlines Plaza Pregame Pep Rally
Our newest game day tradition was created for The Herd. We have created the perfect place to come together before every kickoff where energy can be leveled up and the tone can be set. The Herd is the loudest crew in the stadium, and the love for their team extends the 4 quarters on the field. Starting at gates, a guest DJ and Bighorn Hype will welcome The Herd and get the party started. Cheers and chants will be practiced and plans can be shared. Bighorn Hype's energy is never-ending and their passion is only matched by our dedicated Herd members. Meet Bighorn Hype at the Level 6 South American Airlines Plaza before kickoff at every home game and get the Rams House Rockin!
The Rampede
The Rampede. A call to arms. This game day tradition was created and is driven by you, the fans, from all over Los Angeles. Every morning on game day, we arrive as individuals and come together to form a herd, a stampede, that with its collective force comes together to destroy its target. Just like the energy and dominance within a Ram, our 75,000 fans will rise together to generate the Earth shattering sound of the Rampede that literally makes the Stadium rumble right before kickoff. Stomp those feet. Bring the noise. Make our opponent feel our Rampede.
3rd Down Herd Horn
And just like the Rampede, we've created a new 3rd Down Herd Horn. Once again, calling our herd of fellow Rams fans to ignite that energy. Every. Third. Down. This modernized herd horn radiates powerful energy that vibrates and is coupled with intense graphics emanating in a harmonic effort. As the game progresses, the herd horn gets louder and the graphics become more energetic. It's a signal to our Rams fans to unite together and rally for our defense. This is our house, and the other team is going to feel that. So when you hear this 3rd Down Herd Horn, it's time to get loud!
Awaken the Beast
It's the 4th quarter! It's time to awaken the best, within all of us. When the team needs you the most, we wake the beast. You won't know when it's coming, but when it does, this takeover is hard to forget. All of us will be rocking out to Bulls On Parade with Nita Strauss and DJ Malski and rallying our team to victory together.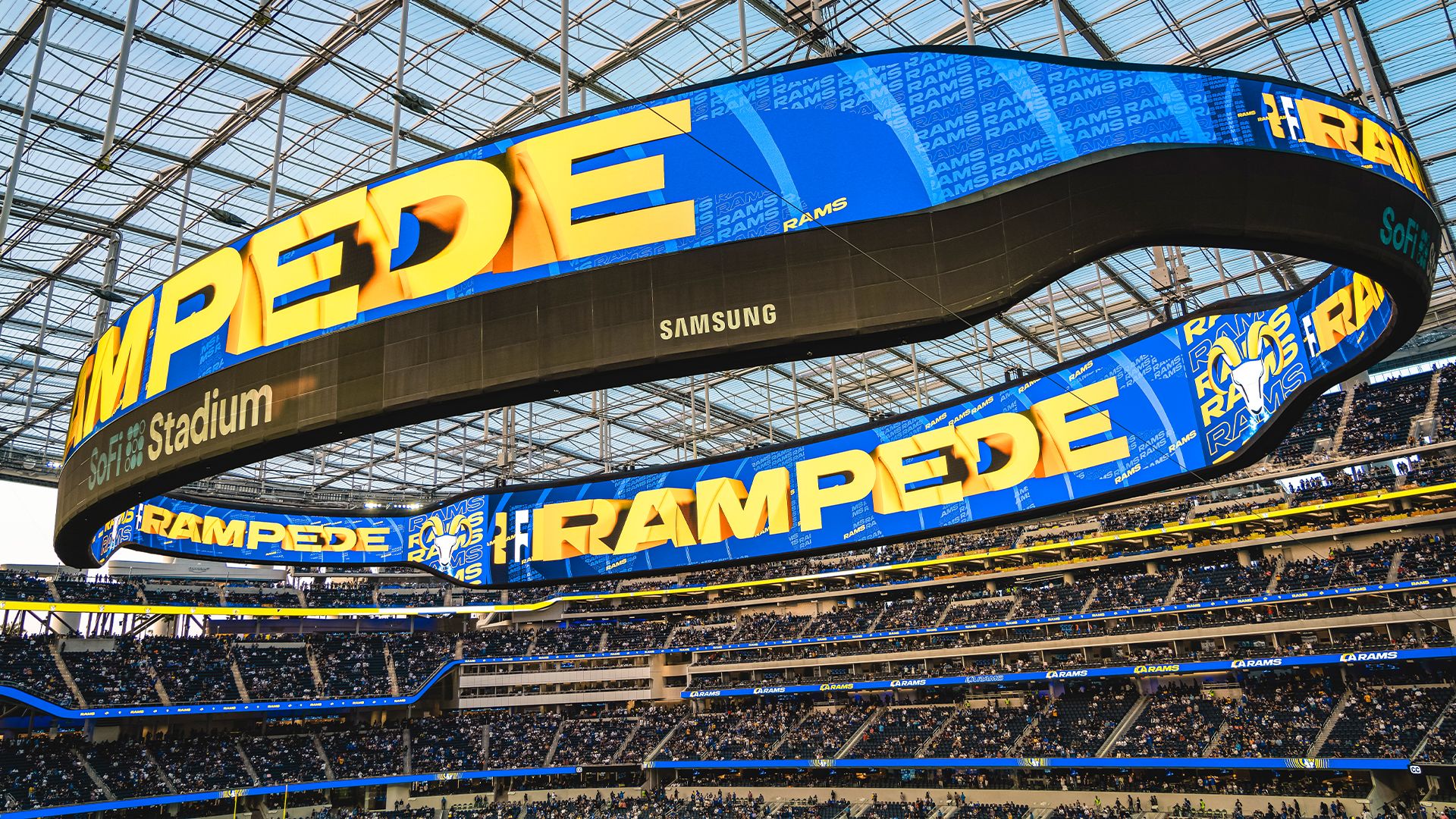 Hi! It's me, Infinity!
I may be 120 yards, 40 feet tall, and 70,000 square ft of digital LED, but don't let my size intimidate you. I'm the life of the party, ready to have fun and engage with you throughout the game! You can interact with me and participate in polls, trivia, contests, and even text me to see your messages in the stadium. Don't worry, I won't take you away from rooting on your Rams. I'm just a text away to play games and have fun when our Rams aren't scoring touchdowns.
And who can forget....
"Whose House? Rams House!"
Whose House? We're ready for gameday here
Checking in on SoFi Stadium! It's coming along.