Just under two weeks from the 2019 NFL Draft, head coach Sean McVay was asked about last year's class of rookies.
The Rams selected 11 NFL hopefuls in 2018, but only rookie defensive end John Franklin-Myers saw significant playing time away from special teams — playing 29.7 percent of defensive snaps.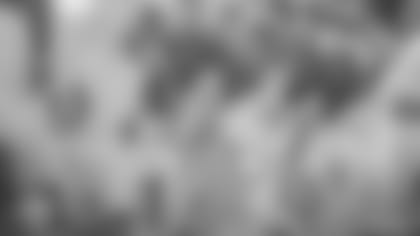 While youngsters like running back John Kelly, defensive tackle Sebastian Joseph-Day, and linebacker Obo Okoronkwo could all theoretically see the field more in year two, McVay specifically cited four sophomores who face the possibility of a larger role in 2019.
"There's going to be a lot of guys that, it's going to be good to get there and see these guys go from year one to year two," McVay said on Monday afternoon. "Some of these guys that we're expecting big roles from. And then a lot of guys will have an opportunity to earn their chance to see the field."
That being said, here's a look at the four Rams who earned the head coach's endorsement ahead of the offseason program:
The Rams' fourth-round pick out of Michigan State in 2018 played just three percent of snaps in his rookie season behind veteran center John Sullivan in L.A.
With Sullivan's offseason exit, Allen is currently slotted as the defending NFC Champions' starting center ahead of year three for McVay and quarterback Jared Goff running the offense.
Goff was optimistic about taking snaps from Allen earlier this week — especially considering his weekly practice reps with the young center while Sullivan took his weekly day off.
"I think that does definitely help, just having a little bit of a rapport with him," Goff said. "Again, it's not like having game experience with him, but being able to practice with him last year proved a little bit beneficial for us moving in to this period."
The TCU product and Rams' top draft pick in 2018 is currently expected to replace left guard Rodger Saffold on the offensive line. Noteboom will line up to the left of Allen, combining to flip the average age of the unit from a season ago.
Noteboom subbed in and out of the league's top offensive line in year one, but still saw limited minutes, playing just seven percent of snaps.
"I don't see any disadvantages to sitting out a year, you're maybe getting less experience on the field, but getting those practice reps was basically all I needed and that film work," Noteboom told theRams.com in March. "I'd say it's more advantageous than disadvantageous."
Kiser didn't see a lick of playing time away from special teams in his rookie season, however he did log 60 percent of snaps in the third phase.
The former Virginia Cavalier made "an impression" according to McVay, and his season as an understudy in the defense could pay off with playing time in 2019, especially considering the departure of linebackers Mark Barron, Matt Longacre, Dominique Easley, and Ramik Wilson in free agency.
McVay also mentioned his sixth-round pick out of Maine, offensive lineman Jamil Demby.
Demby was cut from the Rams roster in September of last season to add defensive tackle Aaron Donald back to the roster from the exempt list. He was picked up by the Lions and spent the season on the practice squad in Detroit before the Rams welcomed the big man back in mid-December.
While big-league production remains to be seen, Demby could provide some depth for the Rams' new-look O-line in 2019.