Dominique Easley has been an interior lineman throughout his career. And when healthy, he's been successful — making 3.5 sacks in a rotational role for Los Angeles' defense back in 2016.
But staying on the field has, unfortunately, long been an issue for Easley. That's one reason why since coming off the physically unable to perform list on Monday, Easley's been taking snaps at outside linebacker.
Defensive coordinator Wade Phillips revealed the nugget in his press conference following Tuesday's practice.
"Because of his history, I think it's easier outside," Phillips said. "You're not pounding against a 300-and-some-pound guy, which he did normally. He played a lot of inside."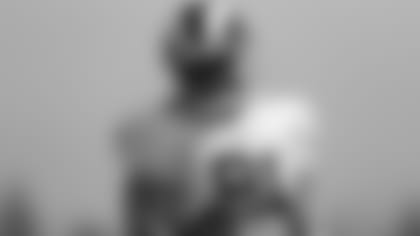 Easley's injury history includes three ACL tears — two suffered in college, one suffered last year with the Rams during training camp. He also ended the 2014 and 2015 seasons with the Patriots on injured reserve, after New England selected him in the first round of the 2014 draft.
But Easley has worked his way back to playing every time. It's an element of his character that head coach Sean McVay praised on Monday and Tuesday.
"Couldn't be more impressed with just him getting back to this point, and looking forward to seeing him continue to progress over these next couple weeks," McVay said.
While Easley said himself on Monday that he wasn't sure where he'd line up for Los Angeles' defense, Phillips first mentioned Easley on Tuesday when addressing a question about the Rams outside linebackers in general. He later added that playing in space could aid Easley as a rusher.
"I think this gives him a little more freedom to utilize his abilities. We even played Mario Williams at outside 'backer," Phillips said, referring to the former Texans No. 1 overall pick. Phillips was Williams' defensive coordinator back in 2011. "A real strong player can play that position and, again, not have as much wear and tear."
As Easley moves from a down lineman to an outside linebacker, McVay noted the defender's general strength as a pass rusher as a skill that translates.
"He does a great job of being able to create pressure," McVay said. "He's got great athleticism, turn-and-run — whether he's playing inside, whether he's playing outside, he's a guy that can influence and affect the quarterback in some of those pass-rush situations. And that's what we expect him to do. And he's slowly but surely coming along."
Los Angeles has looked at adding depth for their outside linebackers during the preseason. Much of that has to do with the injury issues the position group has dealt with since the offseason program. While Samson Ebukam has been healthy and performed well, Morgan Fox is out for the year. Matt Longacre continues to progress, as he's practiced this week. But Obo Okoronkwo remains on the physically unable to perform list after undergoing foot surgery during the spring.
The club did bring in Junior Galette on Monday, but McVay confirmed on Tuesday that L.A. elected to pass on signing him.
According to McVay, based on the health and availably of the club's current outside linebackers, the Rams may still look at external options for the position. But they're excited about who's currently with L.A.
"I think we've got a good opportunity to continue to evaluate guys," McVay said. "We're hopeful that Matt Longacre will be healthy. Obo is a guy we're monitoring. You see we take Dominique Easley off PUP, and we feel very good about those guys. The thing that you're… I don't want to say concerned, but the thing that's up in the air is being able to keep those guys healthy and available. So I think you're always looking at — God forbid — some contingency plans if it doesn't work out with those guys. But we do have a lot of confidence — if they're able to stay healthy — in the group that we've got on our roster right now."
At least as of now, that group includes Easley as an option for the Rams to utilize on the edge. McVay said there's a possibility that Easley appears next week against the Saints, but it's more realistic to expect that he'll be out there for Week 1 against the Raiders.