Whether it's in the seven rounds of the NFL Draft or in the behind-the-scenes scramble for top undrafted free agents, professional football dreams come true in late April. But receiving the memorable phone call is just the beginning.
Springtime onboarding in Los Angeles landed the defending NFC Champion Rams 27 NFL hopefuls — eight out of the draft, 19 UDFAs — each of them in search of an opportunity in a league where nothing is guaranteed.
Just ask running back Malcolm Brown, who recently re-signed with L.A. Four years after the teary phone call that made him a Ram, undrafted out of the University of Texas back in 2015, Brown recalled his own unsuspected birth into the NFL — an opportunity on special teams.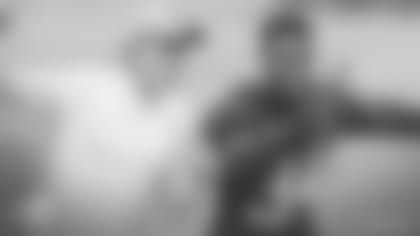 "I knew once I signed and got into that running backs room and there were like nine people in there," Brown said in episode four of Behind the Grind. "I was afraid, to be honest. Like, there were like nine people in there, am I even going to make this team?"
A former five-star recruit who accumulated 2,678 yards rushing and 24 touchdowns in burnt orange, Brown admits that going undrafted still serves as fuel heading into year five of a career that almost never left the gate. Joining fellow rookie running back Todd Gurley and a crowded position group, Brown's NFL chance dimmed even further in year one until a message from special teams coordinator John 'Bones' Fassel opened the young running back's mind, as well as the door to the next four years of his pro career.
"Of course I had heard about [Fassel] and that he was one of the best special teams coaches in the league, so I was like I'll just come in here with an open mind even though I've never done any of this before in my life," Brown recalled. "Once 'Bones' told us all I want to see is effort, I knew."
Without any prior special teams experience, Brown bought in to Fassel's simple plea.
"[O]nce he said that I was just like I got this. If I get in, it's going to be full-go all the time, and shoot, that's kind of how my career was born."
"Not only is it not common, I'd say it's very rare for a guy to be a legitimate factor as a running back, but also to be a huge contributor on all four phases on special teams," Fassel said in a recent interview with therams.com, reflecting on his time with Brown. "He's covering kickoffs, he's covering punts, blocking for our punt returners in the punt return game, he's in the front line or on the back end in kick return game — he's as versatile as they get… you could almost say he's the master of all trades really and he's only getting better."
Aside from the 16 weeks spent on the practice squad as a rookie, Brown's played at least 27 percent of special teams snaps in Fassel's unit in each season of his career.
And his role has extended into head coach Sean McVay's offense since the 2017 season, which ended in career highs across the board for Brown at running back — including his first career touchdown, playing 14 percent of offensive snaps. In 2018, Brown played in 11 percent of offensive snaps and posted 264 yards of offense with one receiving touchdown before suffering a season-ending clavicle injury Week 13 in Detroit.
"Switching your mindset from being the man to being a role player — that's harder for some guys, it's harder for everybody who goes through that, especially if you have zero experience," Brown said just a few weeks before his brand new teammates will fight for their spot on the loaded championship-caliber roster in year one.
The fact that Brown will be in L.A. to welcome his rookie teammates when they arrive next week is a reflection of his openness to take on a new role four years ago in St. Louis. When the Rams discussed matching the Lions' offer sheet for Brown last last month, Fassel vouched for the special teams swiss army knife-turned Gurley backup who he welcomed to the league years ago.
"It just tells you that he's a guy that care about the team and he's very happy with his role," Fassel said. "Anybody wants to be a starting running back —  but it speaks a lot about those guys who take those roles on and want to be damn good at it."
Gearing up for year five alongside Gurley and year three splitting significant time with the star back, Brown's pleased with the career he's forged from a shaky start.
"It's worked out  — I'm going to say it everytime," Brown said. "Look where I'm at now going on year five. It's been a blessing."