Belief. It shapes our visions and can be a powerful motivator.
For Andrew Whitworth, it was a central piece to a successful 16-year NFL career, on and off the field, and his decision to retire, and helped shaped the Rams.
Belief that things would work out with the Rams and he had several years left to play. Belief that the physical toll would eventually catch up to him, so now was the time to go out on his own terms. Belief in others as a public servant and having the chance to spend more time doing so.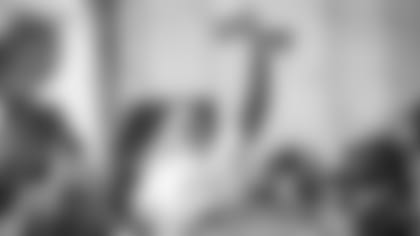 The first leg of the plane ride to Los Angeles was, well, rough.
Flying out from Cincinnati to sign with the Rams, Whitworth and his wife Melissa had to connect in Salt Lake City on the way to L.A. Sitting in the last row of the plane was uncomfortable for Andrew, and the bounciness of the aircraft amid winter storm weather didn't help either.
Adding to that uneasiness, the Whitworths were leaving behind an 11-year run with the Bengals that included six winning seasons and six playoff appearances, as well as an established culture, for a Rams franchise that had hired a 30-year-old head coach and was in search of its first winning season since 2003 and first playoff appearance since 2004.
Andrew, though, was undeterred, and began assembling a plan.
"I literally look at Melissa and I'm just like, 'I hope you know, like, our chances of winning are basically done. Cincinnati, we at least had built something, all these things,'" Whitworth said Tuesday. "But listen, this is our – I was literally forming a plan – our plan is, we're gonna go there, and we're going to be a part of making a culture where they're going to win one day. We're going to pour ourselves into this place, and one day, we'll win."
---
---
At its core, the job of an offensive lineman is to be a protector – to serve others.
That essence also led – continues to lead – Whitworth when engaging with the community and various organizations.
"I think the greatest value there is in life, to me, is to be there for someone else when they need you," Whitworth said. "And I think, to me, there's no greater thing than to have the opportunity to be there, stand up for, fight for, protect someone when they need those things."
This past year, Whitworth did so by partnering with St. Joseph's Center and UNIFY Financial Credit Union to furnish a two-bedroom duplex for a local family moving from a shelter to permanent housing over the holidays last year, launching his "Big Whit Homes for LA Families" program at the beginning of the 2021 season and committing to donating $20,000 after each home game to repair homes in his home state of Louisiana and move Angelenos facing housing insecurity into affordable homes, hosting more than 30 military veterans with Merging Vets and Players in a suite for a Rams home game at SoFi Stadium and serving as the co-host for the team's annual Rams' Night for Wishes benefiting the Make-A-Wish Foundation for the fourth consecutive season.
In December 2020, he and Melissa made a $50,000 donation to Black-owned Inglewood restaurant The Serving Spoon to help it stay afloat during the COVID-19 pandemic – according to an NBC4 story published that month, income had been reduced to 25 percent of normal, with owners Angela and JC Johnson paying 12 employees from their personal savings.
Whitworth that year also contributed $215,000 to the players' social justice fund and supported 25 Los Angeles non-profits working to address education inequities, community-police relations, mentorship programming, prison reform/anti-recidivism, youth justice, workforce development, financial literacy, food insecurity and homelessness. He also donated $250,000 to the Los Angeles Regional Food Bank to kick off the team's virtual Te'LA'thon for Los Angeles and support COVID-19 response efforts in March that year.
Whitworth also has funded S.T.E.A.M. Labs at an elementary and middle school to close the technology gap for low-income students and provide them opportunities to achieve upward mobility. In 2018, he donated a game check to the families of the victims of the mass shooting at the Borderline Bar and Grill and hosted families in a suite for the Rams' Monday Night Football game, then raised funds for affected families by auctioning off his game-worn jersey.
On the field, he allowed only 60 sacks while playing more than 16,000 career snaps, according to CBS Sports.
"Whatever it takes for me to be there, whatever I have to do to get back on the field and be that protector, be the person serving those guys, is the most important thing possible to me," Whitworth said. "And I think that helped breed that heart I had of wanting to serve people at a young age, helped me become a great offensive lineman, because in my mind, that's what I was always doing is finding a way to serve the guys around me."
---
---
As he prepared to become the first left tackle to start an NFL game at age 40 last season, Whitworth thought back to a difficult patella injury during his time with the Bengals.
It had him in a dark place. Rehab was such a frustrating experience – "it wasn't coming back as much as it wanted to" – that during training camp in 2013, he thought he might not ever play again. But he fought the adversity and saw the light, and it bore a personal goal to play another 7-8 years.
He played eight, culminating with a Super Bowl title in Year 8.
At the Rams' Super Bowl LVI rally last month, Whitworth said he was told he was too old and that perhaps his time was done. Yet that doubt only fueled him.
"I tell you this for every single person sitting out there that's ever doubted anything you've ever done, bet on yourself," Whitworth said last month, "because five years later, I'm holding this trophy up and I'm 40 years old. Let's go. Don't let anybody's opinion of you ever become your reality. Bet on yourself. World damn champions!"
---
---
The physical part of the game eventual takes its toll, though. Whitworth said he was talking to some friends at dinner Monday night, one of them former NHL player Jarret Stoll, and he and Stoll were discussing mentoring young players and the toughness required to play the game.
Stoll asked him when was the last time he felt good playing football, and Whitworth said he had no idea.
"Honestly, if you told me right now, the warrior wants to go again," Whitworth said. "But the body just doesn't. The body's tired."
While Whitworth once again played at a high level in Year 16, he didn't want to get to the point where he was a disservice to his teammates when he started to lose the ability to be out there and give them the effort and performance they deserved.
"I would never want that for them," Whitworth said. "I want them to be successful. I want them to have every dream they've ever had come true. And if I'm in the way of that at all, I feel that way, physically that I can live up to that that will be one of the worst things I could ever be a part of."
---
---
Andrew said he and Melissa probably had the same feelings – they may not get to see that winning culture they were going to pour themselves into, but they're going to help create it.
When they landed in Los Angeles, those feelings had changed.
"I actually posted an Instagram video as I was doing it, for some reason I just had this feeling that something really special was gonna happen," Whitworth said. "And when we landed, sure enough, five years later, we sit here and it's been maybe the greatest five years of my entire life."
Whitworth would see the fruits of that labor after all. In those five years, the Rams won a Super Bowl, two NFC Championships and three division titles, making four playoff appearances overall in those five seasons. They also had a winning record every year, going 55-26 overall.
"One of the best leaders, one of the best people, players, check the box, couldn't be more grateful for him," Rams head coach Sean McVay said. "He changed the trajectory of this organization, when he got here."
So why retire now, even if he still has the spirit and the fighting attitude?
"The greatest answer I can give is that I feel like I've done my best in my 16 years," Whitworth said. "I think winning's important, I think culture is important, but I think the most important thing that I would hope guys remember me for would be that they believe in themselves. And that I believe in them. And that nothing, absolutely nothing is not attainable, if they chase and they want it and they believe it enough."