THOUSAND OAKS, Calif. – Four-time Pro Bowler. Two-time First Team All-Pro.
Now, Rams LT Andrew Whitworth can add another accolade to his resume: 200 career starts.
With his start against the Seahawks in Week 5, the 14-year veteran became the 22nd NFL offensive lineman since 1970 to accomplish the feat.
"It's obviously a testament to having a really great career and being able to stay healthy and out there," Whitworth told theRams.com Monday afternoon. "It's one of those things that puts you in extremely rare company, so it's a little surreal because you don't think of it that way."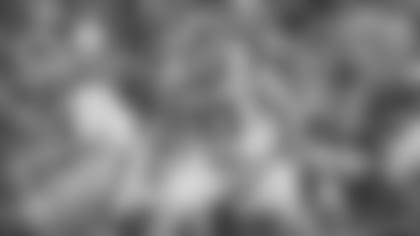 Per SportsRadar Research, Whitworth is the only active NFL offensive linemen with 200 career starts. The others closest to joining him are Eagles OT Jason Peters (187), Redskins OT Donald Penn (179), 49ers OT Joe Staley (176), Seahawks OT Duane Brown (163), Ravens OG Marshal Yanda (156), Falcons C Alex Mack (154) and Raiders OG Richie Incognito (153), according to Pro Football Reference.
Among the 22 who have achieved the feat, Whitworth is only one of seven who made at least 100 of his starts at tackle.
The key to reaching the rare feat, according to Whitworth, is a combination of durability, talent and evolving as a player.
Though he plays left tackle, the former LSU standout got his first NFL start at left guard in 2006 and spent time at the position during the 2007, 2008, 2009 and 2013 seasons in addition to left tackle. After suffering a season-ending ankle injury in Week 11 of the 2008 season, he went on to start every game in 2009.
"There's durability, and then you've got to be good enough," Whitworth said. "Most guys don't get kept long enough to play that long, anyway, so it's usually your play suffers and then also the injuries. I think it's a mixture of both, and how those injuries affect you. It's just always being willing to reinvent yourself. Little things that bother you or you've injured over time, you find a way to play and you have the ability to be able to do that. Some guys, it's just that (those injuries) become so limiting, they just can't play anymore, or there's only one way they could've played and they get an injury that doesn't allow them to play that way anymore. So for me, it's been reinventing my body, finding different ways to move and being able to survive."
Whitworth said the evolution piece is one of the things he takes the most pride in, given how pass-rushers have also developed over the course of his career.
"I can legitimately argue with those guys (also on the list) how much different this game is to sustain in, because I played in the old game and I know what it was like every Sunday, just playing against guys who lined up all over you who were big, heavy dudes and you weren't worried about chasing freak athletes like (Broncos LB) Von Miller and those guys around every week," Whitworth said. "Now, the game's changed. I mean, these guys you're facing at tackle in this league are unbelievable. Every team seems to have a version of one. It used to be, when I got in the league, you might face a dominant player, but then you had four or five weeks of playing a guy who's just a good run player and a decent edge rusher. But it seems like every team now has an elite edge rusher type of guy who is going to get a ton of (opportunities)."
For Whitworth, it is the required toughness more than the earned exclusiveness that ultimately makes him appreciative of the accomplishment.
"It's special, man. It's something for your kids and your family to be proud of," Whitworth said. "It's just something personally, it's one of those little things that it's not really a boastful thing as much as, just proud that you're tough enough, stayed healthy enough and went through enough to still be playing at this level and play in a premium position for that long."
The complete list of the 22 offensive linemen who amassed at least 200 starts in their NFL careers is available below. Players with an asterisk (*) next to their name denote ones with 100 or more career starts at tackle.
NFL OFFENSIVE LINEMEN WITH AT LEAST 200 CAREER STARTS (* = player with 100 or more starts at tackle):
Table inside Article

| Player | Games Started |
| --- | --- |
| Bruce Matthews | 293 |
| Lomas Brown* | 251 |
| Mike Kenn* | 251 |
| Kevin Mawae | 238 |
| Ray Donaldson | 228 |
| Jeff Van Note | 226 |
| Stan Brock* | 223 |
| Will Shields | 223 |
| Randall McDaniel | 220 |
| Mike Webster | 217 |
| Bruce Armstrong* | 212 |
| Jackie Slater* | 211 |
| Ed White | 210 |
| Brad Meester | 209 |
| Steve Wisniewski | 206 |
| Ray Brown | 205 |
| Wayne Gandy* | 205 |
| Dominic Raiola | 203 |
| Jeff Saturday | 202 |
| Alan Faneca | 201 |
| Casey Wiegmann | 200 |
| Andrew Whitworth* | 200 |