Their involvement was not by design, according to Rams QB Jared Goff, but tight ends Gerald Everett and Tyler Higbee made the most of the chances that came their way in last Thursday's loss to the Seahawks in Seattle.
"Just by the way the game flow goes," Goff said. "I think there's no intent to it, it's just that those were the guys that were open on those plays."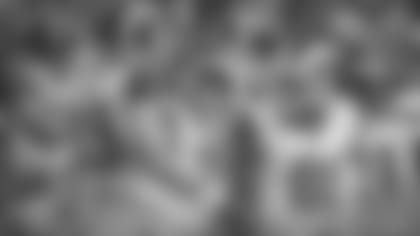 Their performances are impressive considering where they were statistically at halftime.
Higbee did not have a single catch and Everett just two for 28, but went on to finish with 3 for 47 and seven for 136 respectively.
For Everett, his 136 receiving yards set a new career-high. Higbee's 47 marked a season-best.
Rams head coach Sean McVay said Everett and Higbee getting more involved in the second half was a credit to the reads Goff made.
"I think Jared did a good job getting through progressions and finding guys," McVay said. "I thought Gerald and Tyler did a nice job in making the most of their opportunities."
Everett was especially effective, securing a reception for a positive gain on four of L.A.'s six scoring drives against Seattle. Higbee had timely catches of his own, too, as each of his three second-half receptions came on each of the Rams' scoring drives that helped them regain the lead in the third quarter.
The duo's efforts did not go unnoticed nationally, either.
Scouting service Pro Football Focus considers a grade of 90.0 or higher to be "elite." The two Rams who earned a place in that category Week 5?
While their performances weren't enough to avoid a divisional defeat, they did offer the Rams more positives to build off of as they shift their preparation toward next week's home game against the San Francisco 49ers.
"We've got to compete harder," Everett said. "We prepared well during the week and we were really confident coming into this game, and it just came down to the wire."