On Thursday, December 19, Los Angeles Rams' Tackle ANDREW WHITWORTH funded a shopping spree for 77 youth with Big Brother Big Sisters of Ventura County (BBBSVC), providing each "little" with a $100 gift card to purchase items for the holidays. BBBSVC builds and professionally supports one-to-one mentoring relationships to provide underserved youth the opportunity to achieve their full potential.
"All of our Littles need some extra support around the holidays and because of Andrew Whitworth's generosity, he was able to help 77 of our youth enjoy a bigger, brighter holiday season than they could have ever anticipated," said BBBSVC CEO Lynne West. "This is a special experience for each of them that they will never forget, not only because they were able to purchase such incredible gifts, but because someone like Andrew and his colleagues at the Rams took the time to make it fun, sincere, and focused on the youth themselves."
Also joining the spree was team mascot, Rampage, who loaded selected items into shopping carts, took photos with the youth participants, and brought smiles and excitement to those who don't always have the opportunity to share the delight of the holiday season.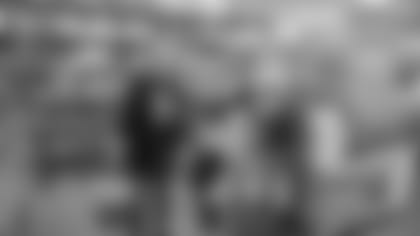 "Rampage did an amazing job running around Walmart and ensuring that each Big and Little had the opportunity to get their picture," said BBBSVC Vice President of Programs, Danica Selvaggio. "Having him on site generated some noticeable excitement, and even though so many of our youth sometimes feel unconfident, he brought a smile to even the shyest face and made them feel special knowing he was there to celebrate a fun day just for them."
Although Whitworth was unable to attend the event, he reached out to the youth participants with a video message that was played for them as a group.
"I hope everyone has a great time tonight and enjoy some shopping and some fellowship together," said Whitworth in the video. "I wish I could be there with you. I really hope that this holiday season and this Christmas is special for all of you and I hope you Bigs and Littles get some quality time in tonight. I look forward to hearing about the great times that are had tonight and the great gifts that you find. I hope I get a chance to meet some of you down the road. Thank you so much for coming tonight."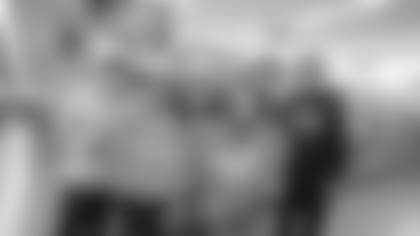 The youth participants were thrilled to see the video message Whitworth had provided them knowing that he was thinking about them during his week of preparation for the Rams upcoming game.
"It was touching to see the reactions from our youth when they were able to see the video, hear Andrew's voice, and put all of the pieces together about the holiday event," said Selvaggio. "When they made the connection that Mr. Whitworth had created this opportunity for them, the warmth and gratitude of the experience became very palpable."
On Monday, December 17, Rams players Tyler Higbee, Marqui Christian and Obo Okoronkwo also took youth served by BBBS Ventura County on a shopping spree at a PacSun store location in Canoga Park.