In the business that is professional football, a starting spot is hardly set in stone — especially for young players like 23-year-old center Brian Allen. But on Monday, the former Michigan State Spartan trotted off the practice field following his first day of OTAs slated as the man in middle of the offensive line headed into 2019.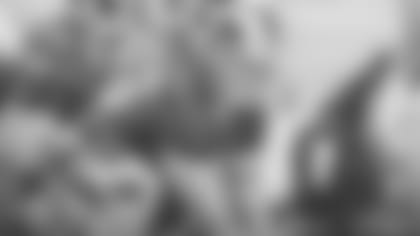 "With a year under my belt with some really good teammates to go against and to have a couple of experiences in the game, I know what's coming now," Allen told media members after going against a defense for the first time this offseason.
Allen saw action in his first professional season mostly in practice, taking weekday reps with quarterback Jared Goff, while the seasoned veteran, former Rams center John Sullivan, took the reins on Sundays.
But general manager Les Snead called Allen in the fourth round of the 2018 NFL Draft with some long-term planning in mind. At that time Sullivan was headed for year nine as a pro, and Allen was plenty experienced while on campus in Lansing, Mich. — starting 17 games at center, 15 games at left guard, and five games at right guard. A variety of action in college and a "redshirt" season behind Sullivan, where he trained at multiple spots on the line, has led Allen to his NFL opportunity.
"Yeah, that was the same thing that I did in college, running a pro-style offense, and I had pretty good grip of the scheme and stuff," Allen said, in review of year one. "Just having an opportunity here is the same thing. It just forced you to know it better and know what everybody is doing and as the center that's kind of your job."
"Obviously Brian [is] being naturally thrusted into a role where you have to communicate and I think he's done a really good job," head coach Sean McVay said on Monday. "Because there's so much that goes on specific to the cadance up front, he and Jared's rapport, and I think they are taking good steps one day at a time."
McVay isn't the only one ready to see the young, cross-trained center step into the spotlight. When the club didn't pick up the veteran center's option, Allen received a one-of-a-kind phone call from the signal-caller himself.
"Just telling me about the situation and to get ready, get excited to keep working together," Allen said, recalling his phone conversation with Goff — who was asked about the transition from taking snaps from a veteran to first-time starter after Day 1 of OTAs.
"Basically I could just lean on John so heavily and expect Brian to get there, but it's just his first full year of actually playing," Goff said. "It's been good, it's been helpful to my development. It's been good."
"I'm excited for the opportunity," Allen added before heading into the locker room. "And this is what I've been working for my whole life — it's here."