During the 2019 season, the Los Angeles Rams teamed up with the Austen Everett Foundation (AEF) to provide two children battling cancer with unique and memorable experiences at Rams' home games. Cancer survivor Angelina Santana and cancer fighter Melokia Tupua were named honorary captains for the day and participated in each game's opening coin toss.
Santana, a Fontana native, was diagnosed with a rare form of cancer known as Rhabdomyosarcoma, when a tumor on the side of her neck began to develop at the age of 2. She immediately began chemotherapy and underwent multiple surgeries. After years of treatment, Santana achieved remission at the age of 11 and is still undergoing yearly MRI's while making an effort to give back to other youth who have shared similar struggles. Santana is currently a full-time student excelling in her high school courses and has always been a passionate Rams fan.
On Sunday, October 13, Santana and her family had the experience of a lifetime and were invited to the Rams' Crucial Catch, Intercept Cancer game against the San Francisco 49ers. When Santana and her family arrived at the Los Angeles Memorial Coliseum, they were stunned by the incredible atmosphere and the opportunity to be on the field to watch her favorite team warm up. Additionally, Santana met Rams offensive lineman CHANDLER BREWER, a cancer survivor who is also currently in remission, and they connected briefly about their cancer journeys.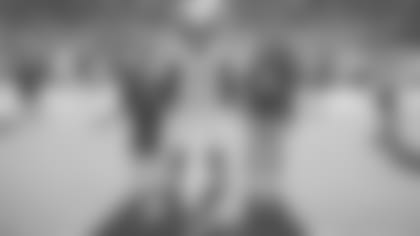 "These experiences provide strength, inspiration, and motivation to cancer fighters and their families," said AEF Program Director Hanna Sanford. "They provide a renewed hope and a greater drive to keep fighting knowing that they have these incredible professional athletes and teams supporting them. We're grateful for teams like the Rams that generously provide these opportunities because the impact is immense."
Santana along with another youth cancer survivor held hands with Rampage as they were escorted to midfield to be recognized in front of thousands of fans. Santana couldn't help but glow when she saw the words "survivor" next to her name on the jumbotron. She then proceeded to participate in the game's opening coin toss with the captains from both teams.
"The whole entire day was amazing," said Santana. "The Rams treated us like royalty. My favorite part was that I saw my name on the big screen and it said, 'cancer survivor.'"
Tupua, a southern California native, was diagnosed in May 2019 with cancer after Linda University's Children Hospital discovered she had a tumor on her brain. Within the last 8 months, Tupua has undergone brain surgery, completed six rounds of chemotherapy and recently completed her last week of radiation. Tupua is an avid Rams fan and she enjoys watching games with her father.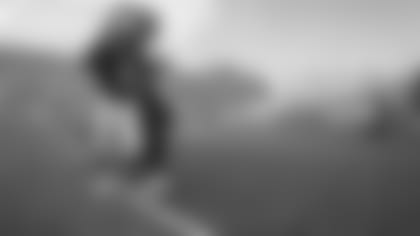 The enjoyment Tupua experiences watching Rams games with her father was taken to another level with the special opportunity provided by AEF and the Rams. Having never been to an NFL game, AEF and the Rams invited the Tupua family to the team's final home contest at the LA Memorial Coliseum on December 29.
"The whole family is so thankful for this experience," said Melokia's mom, Noelani Tupua. "It was nice not to think about treatments and to see Melokia smile."
Tupua and her family were provided a VIP experience and had the chance to be on-field during pregame warmups. Known to be timid at times, Tupua couldn't contain her excitement when she met Rampage who accompanied her to midfield for the opening coin toss.
"My experience was and still is the best time ever," said Tupua. "I loved that I could share it with my family. Courtney [Hansen, AEF Producer] made me feel special like a VIP for the day and I forgot that I had radiation the next day. Being a team captain was my favorite part. I walked out on the field with the other captains and Rampage."
The Austen Everett Foundation's mission is to empower youth in their fight against cancer through the strength and support of teams and athletes in their local community.