It was a memorable and remarkable five-year run for Los Angeles native Robert Woods with the Rams. Here are some of the top moments from his time with the team.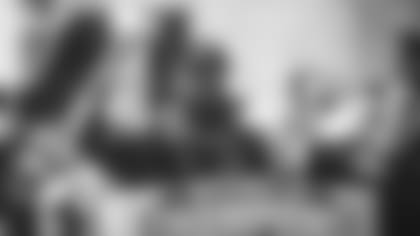 March 9, 2017: Rams and Robert Woods agree to terms on five-year deal
Woods was one of the first free agent signings of the Sean McVay era, and it also marked a homecoming for the Serra High grad and USC product.
November 5, 2017: Scores first touchdown as a Ram
Taking a screen pass 52 yards to the house, Woods also evaded several Giants defenders on his way to the endzone for his first touchdown in the horns. This also came on 3rd and 33.
November 12, 2017: Scores first touchdown as a Ram at home – at Los Angeles Memorial Coliseum
It's not just that this was an impressive 94-yard touchdown catch – it's also the iconic "Fight On" gesture as he put two fingers in the air inn a V shape while running toward the endzone.
December 9, 2018: First 1,000-yard season of NFL career
With his 61 yards against the Bears, Woods eclipsed 1,000 receiving yards in a single season for the first time in his NFL career. He would finish with a career-high 1,219 overall by the end of the 2018 regular season, and set a new career high for single-season touchdowns with six.
December 1, 2019: Going off for career-high 172 receiving yards vs. Cardinals
In a 34-7 blowout win over Arizona, Woods established a new career-high with 172 receiving yards and matched his career-high with 13 receptions.
September 9, 2020: Voted team captain for first time
In a sign of how respected he had become in the locker room, Woods was voted as a team captain for the first time by his peers. He would also be voted a team captain for the 2021 season.
February 13, 2022: Hoisting the Lombardi Trophy
Five days earlier, Woods shared how he had moved past the mixed emotions that came with being sidelined during the team's Super Bowl LVI run, understanding that he had just as much of a part in that success as anyone inside the locker room. He then got to lift the Lombardi Trophy on the stage during the postgame celebration.
And in a full-circle moment, he got to hoist it once more at their parade rally at the Peristyle at Los Angeles Memorial Coliseum.