Rams head coach Sean McVay joined ESPN's Postseason NFL Countdown as a guest analyst for their Super Bowl LIV pregame coverage. As a couple of the highlights from his appearance below show, his connections to the 49ers go beyond facing them twice a year as a divisional opponent.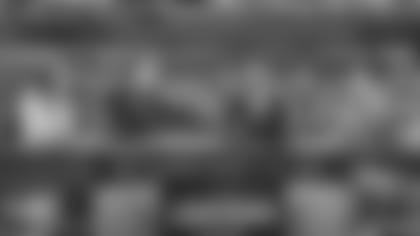 Looking back on Super Bowl LIII
At the beginning of the show, host Suzy Kolber asked Sean McVay about coaching in the previous Super Bowl and how he would've prepared for the game differently.
"I think it was more along the lines of just trust your players, continuing to really trust them, put them in positions to have success and then weather the storm if things don't go the way you want early," McVay said. "I think there's so many different things going on – elongated pregame, halftime, all those things. But just get into the moment, just produce in the present, be where your feet are planted. Doing those things and maintaining an even keel and poise throughout the game, and I think I could've been better there."
Reuniting with Steve Young
A photo of McVay and former 49ers quarterback Steve Young from Young's playing days was shown early in the broadcast. The connection, of course, was that Sean's grandfather, John, was the "right-hand man" of former San Francisco head coach and general manager Bill Walsh, as Young described him.
John McVay spent more than two decades in the 49ers' personnel department and helped the organization win five Super Bowls, highlighted individually by earning NFL Executive of the Year in 1989.
"If you say something great about Bill Walsh, you've got to say something about (Sean's) grandfather, John McVay," Young said on the broadcast. "Sean's dad, Tim, would bring Sean to the games out in Atlanta because they lived in Atlanta. Tim, he was a good friend of mine. I had some dark days as a 49er, and he was always there, someone who would back me and say hi, how you doing, check me out. The McVays hold a very warm part in my heart because of how they supported me throughout my time with the 49ers."
That interaction with Young left a lasting impact on McVay, who was 8-years-old at the time.
"Just the way he treated me," said McVay, when asked what he remembered about it. "Those things, you never realize what you pick up until you get into these atmospheres, subconsciously being around it. But the way he treated me, that meant the world to me. Just being around the guys, seeing the competitive atmosphere and environment that this league has to offer, is something that you cherish. You never take for granted being a part of it."
Putting Walsh's impact into perspective
The Bill Walsh coaching tree is expansive in 2020, as Kolber revealed, with 19 of the league's current 32 head coaches connected to him in some way.
That includes McVay, who worked with Mike Shanahan on Shanahan's 2013 Washington Redskins coaching staff alongside Mike's son, Kyle, who is the head coach of the 49ers. Mike Shanahan was the offensive coordinator under former 49ers head coach George Seifert, who served as a defensive backs coach then defensive coordinator under Walsh before succeeding him.
According to Young, the reason why it is so expansive is because Walsh – despite being so far ahead of the game compared to other coaches throughout the league – put everything he knew into a video-, audio- and paper-based package which he passed down to his assistant coaches on their way to assistant coaching jobs.
"So much of his innovation, and so much of the league is today, is because Bill decided to have a spirit of abundance about it," Young said.
Mike Shanahan told McVay those tapes played a beneficial role in seamlessly transitioning into the offensive coordinator job for the 49ers the year they won the Super Bowl, according to McVay.
"The thing that he did that shows such a confidence in himself is, hey, I'm going to tape, I'm willing to share, I'm going to help my assistants grow and develop, and I trust that this thing can be sustained over time," McVay said. "Based on that willingness to develop not only his players but his coaches, I think you can see the impact all over."