The Rams made a late-season transaction this week, picking up veteran running back C.J. Anderson ahead of the final two games and playoffs.
Anderson joins the Rams after spending five seasons with the Broncos, having signed with the club as an undrafted free agent back in 2013. The veteran back most recently touted the rock for the Panthers in 2018 — playing in nine games and taking 24 carries for 104 yards.
All indications point to head coach Sean McVay looking to Anderson as the first back off the bench behind running back Todd Gurley. And despite his comments on expecting Gurley to be ready for Arizona, the head coach says Anderson can make an immediate impact.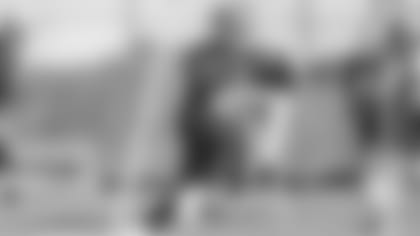 "You can see him playing a role as early as this week," McVay said. "Really impressed just being around him in the initial 24 hours, or whatever it's been."
McVay said his system is not that different from the running back's previous experiences, and Anderson agreed, sitting in front of his brand-new locker at the Rams practice facility in Thousand Oaks, Calif.
"Kind of knowing McVay, his background, where he came from, you know the Grudens and the Shanahans, things like that," Anderson said, explaining his tie to McVay's style. "Obviously I was with [former Broncos head coach] Gary Kubiak for two years, so some crossover over there and what they do — just a little bit different."
While the terminology and a few adjustments here or there may take some getting used to as a member of the 11-3 NFC West Champions, Anderson says he's ready to fill whatever role he's expected to.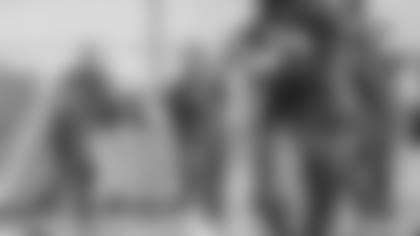 "Whatever they need me to do," Anderson said. "I know I'm going to do everything that I possibly can this week to be ready to play. McVay and teammates and everybody can feel comfortable with me out there if that opportunity presents itself. But until then I'm just going to keep my head down and keep pushing."
Anderson provides some seasoned insurance in the second running back spot for McVay's offense, as Gurley is dealing with inflammation in his left knee and second-year back Justin Davis is day to day after injuring his shoulder in Week 15 against the Eagles.
Anderson's former teammate in Denver and fellow Super Bowl 50 champion, cornerback Aqib Talib, spoke on Wednesday about what the newest Ram has to offer.
"He's a real smart player," Talib said foremost. "Just him being there with [former Broncos quarterback] Peyton [Manning] — Peyton ain't playing about no protection and stuff, so he'll definitely on his P's and Q's as far as protections and all that. He's a tough tackle, a real tough tackle, I've seen him break a lot of tackles especially at this time of the season."
Talib alluded to Anderson's postseason experience, which might come as an added bonus to back's support of Gurley and special attention to pass protection.
"It's huge," Anderson said of joining a team with playoff aspirations. "These players and coaching staff and what they've done over the last few years — definitely have the opportunity — and I'm not saying I'm the missing piece, over the hump, I'm not saying none of that at all. But they definitely got the opportunity and to contribute any way possibly that I can is always going to be special."
Check out photos of the Rams playing the Cardinals throughout the years.