Each of the Rams' first two preseason games has seen a different linebacker step up and make plays. Unfortunately, due to eventual roster cuts for the final 53-man roster, not all of them will have the opportunity to continue producing for L.A.'s defense.
The dilemma presented as a result of that group's recent contributions will make for difficult decisions as Los Angeles gets closer to cut down day, but for the time being, it's a nice problem to have for head coach Sean McVay and his staff.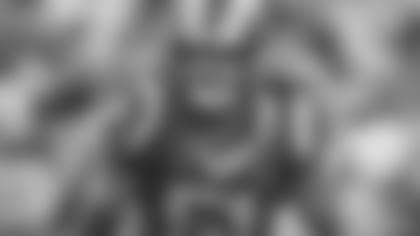 "Those are good things," McVay said regarding different players stepping up. "The goal is for these guys to make our decisions difficult because there are so many people that you feel like are NFL caliber players and deserving of winning a shot to be on that 53 (man roster)."
L.A.'s first- and second-year linebackers have produced in a variety of ways.
Last week, seventh-round pick Dakota Allen produced a game-high eight tackles against the Cowboys in Hawaii. Making his first appearance in a live football game in 593 days, 2018 fifth-round selection Ogbonnia Okoronkwo recorded one tackle, one quarterback hit and one pass breakup in the same contest.
On top of those performances, Natrez Patrick switched from inside to outside linebacker and filled in capably for injured linebackers Trevon Young and Justin Lawler, posting three total tackles, half of a sack and one quarterback hit against Dallas.
In the preseason opener, Young's six tackles tied with two others for second-most against the Raiders. Undrafted free agent Troy Reeder led the way with seven.
"They've done great," LB Bryce Hager said. "Troy Reeder has come in, he's done a great job playing. Dakota Allen made some great plays last week, especially on that stunt they had, come downhill and made a great play. (For Natrez), being able to switch from inside to outside and pick it up so fast as soon as he gets in there (stood out to me), and he's also a great (special) teams guy too."
According to McVay, having a variety of contributors at the position over the last two weeks is a credit to Los Angeles' defensive coaching staff.
It will make cut down day all the more challenging, but as McVay said with the competition for a possible sixth cornerback spot on the roster – they're glad to be in a position where they have to make those tough choices.
"There has been a lot of positives and definitely going to be some difficult decisions, but those are champagne problems," McVay said.