Countdown to Camp is a series breaking down the Rams roster by position group heading into the team's first open training camp practice. The first installment examines the offensive line.
For more information on Rams Training Camp presented by UNIFY Financial Credit Union, click here. To claim your free training camp ticket, click here.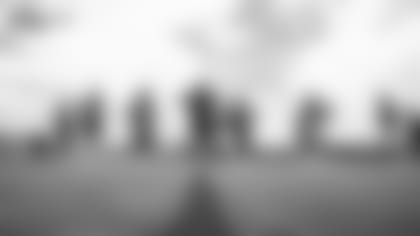 Largely because of injuries, the Rams cycled through 12 different starting offensive line combinations through their first 13 games in 2022.
Then-rookie Logan Bruss suffered a season-ending knee injury against the Texans in Week 2 of the preseason, and attrition came at different points throughout the regular season to key starters:
Brian Allen, who started at center in Week 1, underwent a knee procedure due to an injury sustained against Bills in the opener, and was sidelined for the next five games.
After Coleman Shelton slid over to center in place of Allen, Tremayne Anchrum Jr. suffered a season-ending injury while starting at right guard in Week 2 against the Falcons. The following week against the 49ers, Shelton suffered a high ankle sprain that landed him on Injured Reserve.
Left guard David Edwards was in concussion protocol following the Rams' Week 5 game against the Cowboys.
Alaric Jackson, who started three games at right guard in place of Anchrum, moved over to left tackle after Joe Noteboom suffered a season-ending ruptured Achilles in Week 6 against the Panthers. Jackson later missed the remaining nine games of the season because of blood clots.
Veteran right tackle Rob Havenstein was the only Rams offensive lineman who played in all 17 games.
Rams head coach Sean McVay during minicamp said he did not expect any players to be limited when the team reports to training camp next week, which bodes well for players like Noteboom and Bruss after taking a cautious approach to their involvement this spring.
But that returning group of Noteboom, Bruss, Jackson, Shelton, Havenstein, Allen, and Anchrum – plus second-year offensive tackle A.J. Arcuri, who made his first career start last season – and the addition of new talent like Steve Avila, Warren McClendon Jr., Mike McAllister and Grant Miller – makes for intriguing competition for Los Angeles within the position heading into training camp.
"Now we just got to look forward to building some rapport with everyone, because, like every NFL year there's no slated starters anywhere," Havenstein said on May 3, while also noting obvious exceptions like defensive lineman Aaron Donald. "We will find our best five guys to go out there and get it done. And I think everyone's kind of bought into that, and because we like each other, that makes it just all the more better to get out there and compete with guys. I've seen I've seen fourth-year players, five-year players taking young guys aside, give them what they think when they were back on my rookie, I did this and this and maybe this works better. Instead of your head here once you try it here, things like that. So guys are helping each other out and amongst the competition, so it's been awesome to see."
Avila, the Rams' highest draft pick this year, saw action at both guard spots during OTAs and minicamp in the spring. Allen and Shelton consistently rotated at center as well. Collectively, that points the interior of the offensive line having the most competition at the moment.
Besides healthy position battles, another thing this mix of talent will provide L.A. is depth. On their initial 53-man roster for the 2022 season, the Rams' offensive line experience looked like this heading into it:
Noteboom: 47 career games (17 starts)
Edwards: 49 career games (41 starts)
Allen: 38 career games (25 starts)
Shelton: 43 career games (2 starts)
Havenstein: 99 career games (all starts)
Jackson: 4 career games (0 starts)
Bobby Evans: 23 career games (8 starts)
Anchrum: 12 career games (0 starts)
Collectively, six of eight players had starting experience heading into last season. With Noteboom, Allen, Shelton, Havenstein, Jackson, Anchrum and Arcuri back, it will be seven players with starting experience heading into this year's training camp. Bruss also started two preseason games before getting injured, so he does have some live game experience.
The group is being led by new offensive line coach Ryan Wendell, who replaced Kevin Carberry.