Each weekday, theRams.com will be taking a look around the internet for the top Rams headlines of the day. Here's a look at what's out there for Thursday, May 10 about your Los Angeles Rams.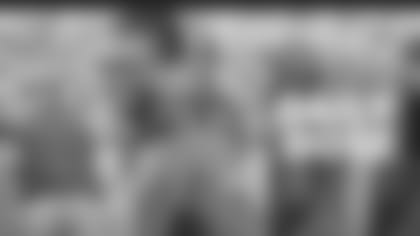 The Rams are one of four Super Bowl favorites for 2019, joining the Chiefs, Patriots, and Saints at the top of ESPN's 'Mega' FPI projections. Ratings are based on each team's Las Vegas win total; last season's performance on offense, defense and special teams; the number of returning starters; coaching staff changes; and starting and backup quarterbacks.
The model picked the Rams to win 10.1 games in 2019, with a 62 percent chance to win the division, a 76 percent chance to make the playoffs, and 12 percent chance to win the Super Bowl in Miami.
NFL.com's Adam Rank put together a list of 32 players that for one reason or another he's rooting for in 2019. For the Rams, Rank will watching the veteran left tackle and 2018 team captain.
LOS ANGELES RAMS: Andrew Whitworth, OT "Moments after the Rams lost Super Bowl LIII, Whitworth was going through his postgame interview session (because we totally need to hear from the losing team) and reminded us all that we're all going to die. I mean, he's not wrong. And he's back for more!"
For the full list of players to root for in 2019, click here.
The offseason that running back Todd Gurley always dreamed of continued with a visit to Yankee Stadium this week. Gurley posted photos to his Instagram showing of his new pinstripes with right fielder Aaron Judge and fellow Roc Nation athlete, veteran pitcher C.C. Sabathia.
Quarterback Jared Goff's 'Halle Berry' call at the line of scrimmage drew attention after it was picked up by FOX's broadcast Week 4 against the Vikings. On Thursday, the actress joined the Tonight Show with Jimmy Fallon and said she's still curious what her play looks like.