Each weekday, theRams.com will be taking a look around the internet for the top Rams headlines of the day. Here's a look at what's out there for Friday, June 28 about your Los Angeles Rams.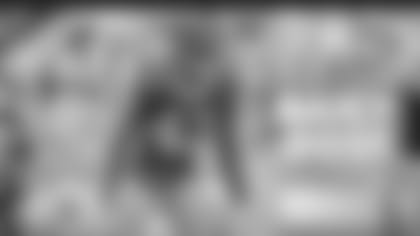 JOHN JOHNSON READY TO BREAK OUT
Recording 119 total tackles, four interceptions, 11 passes defensed, and a forced fumble in 2018, Rams safety John Johnson was arguably a Pro Bowl snub last year. But after a playoff performance that included a key interception in the NFC Championship game, NFL Media's Gil Brandt has put Johnson on his list of breakout candidates at defensive back for the 2019 season.
From Brandt: Johnson's name came to mind right away when I first started working on this piece. He really blossomed in 2018, logging 119 tackles and four interceptions -- and that total doesn't include the pick he recorded against Drew Brees in overtime of the NFC title game to set up the winning kick. I'm expecting Johnson to advance again in 2019 and join the ranks of elite NFL safeties. One of the reasons to feel good about him is the Rams' addition of veteran safety Eric Weddle, who can serve as an important mentor. Johnson also appears to have an exceptional ability to find the ball -- he's one of those guys who seems to know where the ball is going before it's thrown. This is an exceptional player who will get even better.
A third-round pick in 2017, Johnson has been a starter since Week 5 of his rookie year. Headed into his third pro season, he's compiled five interceptions and 22 passes defensed in his 32 regular-season games.
RAMS ARE TOP PLAY-ACTION TEAM
Since Sean McVay's arrival as head coach in 2017, the Rams have used play action as an integral part of their offensive scheme. Given how good Los Angeles has been using it, ESPN analyst Matt Bowen has named the Rams the best play-action team overall.
Stat to know: The Rams led the league last season with 124.5 passing yards per game off play-action concepts.
What makes the Rams the best: In Sean McVay's system, L.A. can marry the outside zone run game, screen package and play-action concepts out of its 11 personnel grouping (1 RB, 1 TE, 3 WRs) with wide receivers in reduced sets. This means the Rams can lean on the run action while using pre- and post-snap misdirection to create open-window throws for quarterback Jared Goff -- and an open field for running back Todd Gurley in the screen game. And it all looks the same to a defender. McVay makes it tough to stop.
The Rams are all over Bowen's list in his piece, as he also calls the club the top zone play-action team, makes note of McVay's strength in designing concepts, and quarterback Jared Goff's prowess in executing them.