Each weekday, theRams.com will be taking a look around the internet for the top Rams headlines of the day. Here's a look at what's out there for Tuesday, April 2 about your Los Angeles Rams.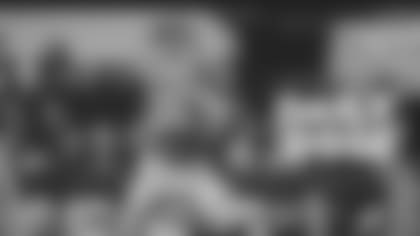 The Rams added experience to their roster this offseason signing linebacker Clay Matthews and safety Eric Weddle. The pair of proven defensive players are the most recent veterans to move to L.A., following the likes of cornerback Aqib Talib and defensive tackle Ndamukong Suh, who joined head coach Sean McVay's group last offseason, and offensive linemen John Sullivan and Andrew Whitworth in the 2017 offseason.
ESPN NFL Nation reporter Lindsey Thiry says the Rams adding veterans in the final stages of their career is a smart move both financially and in the mentorship department, considering the team's youth.
"An argument could be made why the Rams should not pay players past their prime, even if the price is reasonable. But over the past two seasons, it has proved fruitful. Given the team's recent history, there's little reason to question if Weddle and Matthews can't also find late-career success."
For more on the Rams attention to adding veterans, click here.
ESPN's 'power panel' — a group of more than 80 writers, editors, and TV personalities — have their first power rankings post free agency, and the top of the rankings look much like they did near the end of the 2018 season.
The Saints take the top spot, expected to roll out an impressive roster led by future Hall of Fame quarterback Drew Brees, but the Rams are not far behind at No. 2 on the most recent list — just ahead of the defending champion Patriots.
No. 2 Los Angeles Rams - "Three-words-or-less description: Final destination. For a third consecutive season, the Rams have attracted playmakers in the twilight of their careers. Safety Eric Weddle and linebacker Clay Matthews signed with the Rams for three reasons: Sean McVay's coaching ability, the city of Los Angeles, but perhaps more than anything, a solid chance to go out as Super Bowl champions." -- Lindsey Thiry
Pro Football Focus highlighted a jump in quarterback Jared Goff's grades between year two and year three on Monday.
Goff reached a career high mark in completions (354), yards (4688), and touchdowns (32) in 2018.