Each weekday, theRams.com will be taking a look around the internet for the top Rams headlines of the day. Here's a look at what's out there for Monday, June 24 about your Los Angeles Rams.
NFL Media's Gil Brandt recently ranked the NFL's 10 most talented teams, and Los Angeles landed at No. 4 on his list.
From Brandt:Arguably no team in the NFL has better long-term personnel vision than the Rams. As an example: Seeing that the 2019 draft and free-agent classes would be light in receiver and cornerback prospects, they moved aggressively on the trade market in 2018, acquiring receiver Brandin Cooks and cornerbacks Aqib Talib and Marcus Peters. Using trades rather than free agency to address these needs also allowed L.A. to collect extra compensatory picks this year. Of course, the Rams have done well in the draft (the collection of homegrown talent includes Aaron Donald, Todd Gurley, Jared Goff, Cooper Kupp, Rob Havenstein, Joseph Noteboom, Brian Allen and Michael Brockers) and in free agency (the signings of left tackle Andrew Whitworth and receiver Robert Woods couldn't have gone much better than they did). The ability of GM Les Snead to work in lockstep with the coaching staff on roster building has helped the team balance salary-cap concerns in such a way that the Rams were able to extend the contracts of stars like Donald and Gurley without hindering their ability to procure talent where needed. And they've added (signing pass rusher Clay Matthews and safety Eric Weddle and retaining defensive end Dante Fowler) and subtracted (clearing cap space by moving on from linebacker Alec Ogletree last year and linebacker Mark Barron this year) smartly; consider that linebackers are not as critical to defensive coordinator Wade Phillips' scheme as pass rushers and press corners.
Brandt apparently has the NFC as much more talented than the AFC heading into 2019, as the Bears, Cowboys, and Eagles make up his top three, respectively. The Patriots round out the top five.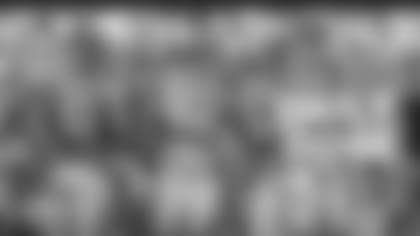 GOFF IMPROVEMENT IN OFFSEASON PROGRAM
Sports Illustrated's Albert Breer had a note about the Rams and quarterback Jared Goff in his Monday Morning Quarterback column this week, and it has positive news about the young signal-caller's progress from OTAs and minicamp.
A few weeks back, in this space, Jared Goff explained to us how the Rams were working on becoming more adaptable offensively—and a staffer there gave me a pretty good example of how that's worked a little while back. Because the Rams spend their spring trying to master their own offense, they aren't pushing up against what their defense might call. So the offensive calls going in this spring routinely put Goff and the offense in a spot where they have to react post-snap. If the call in is ideal against zone rather than the man defense Goff is seeing? Or if one built to beat a two-high safety look meets a single-high safety after the snap? That's where Goff and the offense have to adapt. And as I've heard, Goff's done a better job this spring in more quickly getting to his second read, then to his third read or checkdown. Which is how you improve against defenses that show you something different from what you saw on tape, which is what the Rams were up against in the Super Bowl.
Goff has steadily improved in each of his first three seasons, particularly the last two under head coach Sean McVay. In 2018, Goff completed 65 percent of his passes for 4,688 yards with 32 touchdowns and 12 interceptions.
For the rest of Breer's MMQB column, which leads with notes on the top 2015 NFL Draft picks Jameis Winston and Marcus Mariota, click here.