Second-year linebacker Samson Ebukam addressed the media upon arriving at UC Irvine for training camp on Tuesday. Ebukam, shaded from the Southern California sunshine by a large L.A. Rams straw hat, took a variety of questions surrounding L.A.'s defensive additions and his upcoming season as a first-time starter.
Last year, Ebukam contributed from lower on the depth chart, recording 31 tackles, 2.0 sacks, and one forced fumble, appearing in all 16 games of his rookie season.
Approaching his sophomore season and opportunity as a starter, Ebukam is ready for the spotlight. When asked if he felt any pressure facing a starting role, the Eastern Washington product and former fourth-round pick said, "no, not really."
"I try not to put any stress on myself," Ebukam said. "You know, I just try to handle what I can handle and trust the coaches."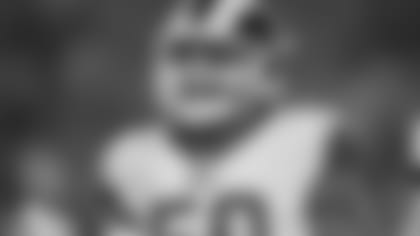 Ebukam responded in an equally cool manner to questions regarding the Rams' strength at linebacker compared to the defensive line or secondary, which both received special attention this offseason with the additions of defensive tackle Ndamukong Suh and cornerbacks Marcus Peters and Aqib Talib.
"I don't see it [the linebacker position] as a question mark — we just restart. It's a business, but you have to have that 'next man up' mentality and that's what we're taking," Ebukam said.
Ebukam is indeed the 'next man up' for the Rams' defensive unit and will share his first year as a Rams starter with the All-Pros who have created a non-stop buzz in L.A. Ebukam beamed for the cameras when asked about playing alongside Talib, Suh, and Peters, and then sympathised with Rams' opponents.
"I wouldn't want to go up against our defense," Ebukam said, earning a laugh from those in attendance. "You know, I feel really good. I feel like if everything comes together, just like coach [Wade] Phillips has been talking about, then it's going just to be a great defense."
"It's going to be one of the best defenses that he's ever coached," Ebukam finished.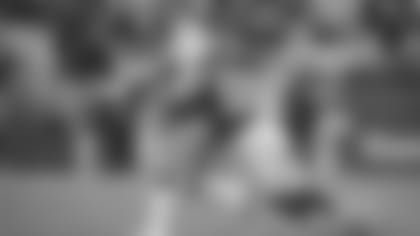 Ebukam's high hopes for the latest edition of Phillips' defense comes just over a month after the defensive coordinator expressed high praise of Ebukam's work ethic and ability. In June, Phillips said his outside linebacker had "a tremendous spring" and all but penciled in Ebukam as a starter in his defense.
This mutual confidence between Ebukam and Phillips entering training camp should sit well with head coach Sean McVay's "We not me" mantra. McVay is well aware of his players' confidence and spoke about just that in Tuesday's opening press conference.
"We have a confident team...you like that confident swagger," McVay said. "But you also want to make sure that there's a humility that exists where you understand you got to earn it every single day with how competitive this league is with great players and coaches."
Despite expressing great confidence in his ability, defensive counterparts, and legendary defensive coordinator, Ebukam confirmed feeling butterflies entering his second NFL training camp — some combination of nerves and excitement.
"Oh yeah, it's going to take a few days to calm the nerves and all that," Ebukam said. "I'm more excited this year than last year."