DENVER – While the Rams fell to the Broncos 41-0 Saturday night at Empower Field at Mile High, the 2023 preseason finale still offered multiple notes and observations.
Here are five takeaways from the contest: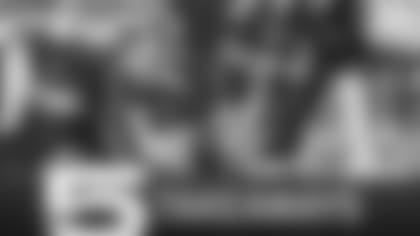 1) Bennett gets the start at quarterback again.
Just like last week against the Raiders, Bennett got the start against the Broncos. However, the results were different.
Bennett completed 2 of his first 3 pass attempts before his fourth pass attempt was intercepted when facing a 3rd and 14 on the Rams' second offensive series.
After going 4 for 9 passing for 14 yards and throwing his second interception, he was replaced by Brett Rypien on Los Angeles' fourth offensive series.
In the context of the entire preseason, it was an uncharacteristic night for Bennett, who in previous games had shown an ability to bounce back from those kinds of miscues.
Rypien finished 7 of 13 for 67 yards before being replaced by Dresser Winn early in the fourth quarter.
2) Extensive playing time for Rochell.
Third-year defensive back Robert Rochell saw a significant workload Saturday night, playing the entire first half and into the early portion of the third quarter.
3) Productive night for Rivers.
If there was one bright spot Saturday night, it was the play of Rivers, who posted six carries for 32 yards, good for 5.3 yards per carry and a conclusion to what was a solid preseason for him overall.
4) Productive night for Ethan Evans.
If there was another bright spot Saturday night, it was the play of punter Ethan Evans. The Wingate product averaged 53.5 yards per punt across six punts, with three of those punts landing inside the Broncos' 20-yard line. His sixth and final punt was his longest of the night, going for 60 yards.
5) Tomlinson's night ends early.
Rookie defensive back Tre Tomlinson got the start at one of the outside cornerback spots, but was ejected at the end of the first drive of the game after drawing a facemask penalty. It was a tough end to the preseason finale for him after playing well in the first two preseason games.