LOS ANGELES – The Rams ended their 2019 season on a high note with a 31-24 win over the Cardinals on Sunday at Los Angeles Memorial Coliseum, featuring noteworthy performances from wide receiver Robert Woods, tight end Tyler Higbee and the Rams defense.
We discuss those and more in the final Five Takeaways of the season: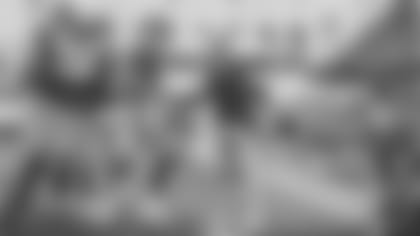 1) Woods records one final memory in the Coliseum
The Rams' final game at the Coliseum had extra meaning for Woods. Not only was he a former standout at the University of Southern California, he was also playing in his 100th NFL game.
He made sure it would be a memorable performance, finishing with six catches for 67 yards and a touchdown.
His receiving yards gave him 1,034 for the season, while the touchdown was his second.
When he spoke about his two fondest memories at the Coliseum, he mentioned one touchdown in college and one touchdown in the NFL that both occurred in the same season. Even if tonight's score was in the other endzone, it still makes a strong case as a third memorable moment.
2) A historic finish to a monster month for Higbee
Tight end Tyler Higbee needed just 22 receiving yards to set a new franchise record. He did 62 better.
The former Western Kentucky star collected eight receptions for 84 yards and one touchdown, setting a Rams single-season record for receiving yards by a tight end with 734. Jared Cook held the previous record with 671.
It was an emphatic punctuation to the season for Higbee, who recorded 522 of those receiving yards in the month of December alone. His 69 receptions are also a single-season franchise record for a tight end (he hauled in 43 of them this month).
Though he fell 16 yards shy of becoming the first tight end in NFL history to surpass 100 receiving yards in five consecutive games, Higbee has a lot to be proud of and plenty of confidence to lean on leading into the 2020 season.
L.A.'s defense caused five turnovers Sunday afternoon – two interceptions and three fumble recoveries – enough to keep Arizona at arm's length throughout the game.
Each of them were meaningful, too. Cornerback Darious Williams snagged the Rams' first pick, his second in as many games. Safety Taylor Rapp got the second, and it was also the second of his career. Linebacker Cory Littleton accounted for the first fumble recovery for his fourth of the season, and linebacker Samson Ebukam accounted for the third for his first since Week 1. Rapp had the second.
Entering the game, the Rams had 11 interceptions and eight fumble recoveries, so their effort against the Cardinals gives them 24 total for the season.
4) Winning record secured for third consecutive season
Sunday's victory secured a winning record for the Rams in each of head coach Sean McVay's first three seasons, a feat that had not been accomplished since 1999-2001.
5) Improvement starts with consistency
While the Rams secured a winning season – having a win percentage above .500 – with Sunday's victory, any player or coach would tell you a 9-7 overall record isn't up to the standard they expect. Even quarterback Jared Goff called 2019 "a disappointing season."
So what must the Rams fix in order to reach the goals they set? According to McVay, the shortcomings this season came down to a lack of consistency.
And that will be a starting point for offseason adjustments.