Quarterback Jared Goff and the Los Angeles offense relied on tight end Gerald Everett more heavily as pass catcher in 2018, in comparison to his rookie season when the South Alabama product lined up as a starter in two games.
If you include the postseason, Everett appeared in all 19 games as a sophomore and started in just one — the NFC Championship game in New Orleans. However, his targets were up by 18 from year one, and the young tight end pulled in three touchdown receptions — the most memorable of which put the Rams ahead late in the win over the Chiefs during Week 11's Monday Night Football instant classic.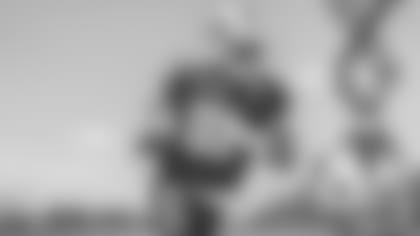 Now, determined to become a more complete tight end in the Rams offense in 2019, Everett has been performing well throughout OTAs — just ask the head coach.
"I think the game's slowing down for him," head coach Sean McVay said this week. "I think with some of the routes that entail some of the decision making things are slowing down for him. He's playing with some patience, he's got great aggressive hands where he can step to the football. I think you're just seeing a guy gain confidence, gain experience."
Everett credits what's gone right in the offseason program to special attention to his craft.
"Just being a pro — listening to all the details, just trying to be my best self everyday, look at myself in the mirror everyday and try to eclipse each practice," Everett said, after humbly acknowledging McVay's endorsement.
Everett said he's focused on taking care of his body post-Super Bowl LIII, and detailed the importance of following a routine in the offseason's down time. Just over one month until training camp, Everett has his sights set on becoming a well-rounded tight end. With the help of tight end Tyler Higbee, passing-game coordinator Shane Waldron, tight end coach Wes Phillips, and run-game coordinator/OL coach Aaron Kromer, Everett has put an emphasis on improving as a blocker ahead of year three.
"I feel like a better version of myself in reference to last year," Everett said. "Just older, a little bit wiser on the field, just more of a complete pro. And I feel like I'm a way better blocker than I was last year, so just feeling like an actual tight end now more so than just a receiving tight end."