While frontline medical personnel work around the clock in response to COVID-19, others in the community are following their lead and rallying to extend their support. On Tuesday, March 31, Los Angeles Rams Tight End Gerald Everett surprised nurses, doctors and first responders at West Hills Hospital with prepared Italian meals from Buca Di Beppo.
"I just want to do anything that I can do to assist them and help them because they're here around the clock every day," said Everett. "It's something simple that I can do and I'm happy that Bucca Di Beppo was able to assist me."
Medical providers continue to make heroic efforts to manage the increasing number of coronavirus-related hospitalizations across the United States. The efforts of Everett, other Rams players and community members serve as reminders to our medical heroes that they are not alone during the COVID-19 pandemic.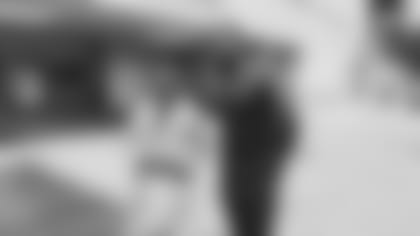 "To have support in a community who recognizes the sacrifices and the bravery that our healthcare frontline workers are showing really keeps them going and shows that they are not alone in this fight," said Mark Miller, CEO West Hills Hospital and Medical Center.
Under the appropriate social distancing guidelines and preventative measures, Everett even decided to take a break from his virtual offseason training and visit the hospital to greet and personally thank medical personnel as they picked up their meals.
"Having the opportunity to come out and see a predominate member of the community take time out of their day and provide us with a really nice meal and a chance to let our guard down for just a second is invaluable," said Dr. Natalie T. Shum, ER Medical Director at West Hills Hospital and Medical Center.
"I just tried to catch them as they were coming out of their lunch breaks," said Everett. "Just to have a word and commend them for their hard work and effort."