ATLANTA — Things are different at the Super Bowl.
As a program watched by more than 100 million people worldwide, that's to be expected.
Head coach Sean McVay acknowledged it to begin his press conference when a reporter asked him if things would start to seem more normal once the practice week began on Wednesday.
"Looking around, not a chance," McVay joked.
And, yeah, with dozens of cameras shooting the press conference and dozens of reporters inside the room, it's going to be relatively different throughout the course of the week.
But one thing that's the same is still quarterback Jared Goff's even-keel demeanor.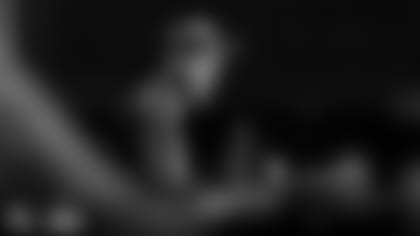 If you've followed the Rams thought this season, you've inevitably read something about how the quarterback is unfazed by nearly all situations, remaining the same guy from snap to snap. And even as the 24-year-old quarterback experiencing his first Super Bowl, Goff doesn't seem like the bright lights and attention are too much for him — at least at a podium.
Seeing every press conference of Goff's young career to this point, it's interesting seeing him now on this stage — mainly because he isn't any different. There are questions he's going to respond well to, and ones he just…won't.
Like when he's asked if he has any comparisons between his game and that of Patriots quarterback Tom Brady.
"I don't," Goff said, plainly.
Or if there's anything he can copy from Eagles quarterback Nick Foles since he beat the Patriots in the Super Bowl last year.
"Nah," Goff replied, shaking his head.
And don't take it the wrong way — Goff isn't being rude. He's just not really going to give that sound-bite answer that people might run with or take out of context.
But Goff did open up a bit when asked about his leadership style, the 'California Cool' disposition that he gives off. Asked for the national audience where he gets that from, Goff turned to a familiar refrain, but not before acknowledging the inquiry itself.
"I get that question a lot and I don't have a good answer for you because I don't know," Goff said. "It's something that I was kind of born with, how I grew up, and how I've been. And I'd probably attribute it to my parents and the way they raised me. Just try to understand that it's still just a game, and have fun with it."
For Goff, leadership is about being authentic. It's why he doesn't feel like it's necessary to be a fiery quarterback, someone who's always in someone's face.
"I think you are who you are," Goff said. "I think there's plenty of different personalities around the league at different positions, and I think — for myself personally — I like to take a certain approach. It's the way I am. And for some guys, it's a different approach. And I think whatever works is what you should do."
As McVay has said before, that demeanor doesn't signify Goff isn't competitive. The quarterback wants to win as much as anybody. Wide receiver Robert Woods cited the victory over the Saints in the NFC title game as proof of how Goff's disposition is effective on the field.
"If he needs to step up and be vocal to a guy, he definitely will," Woods said. "It doesn't matter here — we're all on the same page, no one is above being coached. But we always say that — McVay included. We always just want to [have] open communication, [be an] open book. And Jared is one to speak on that to make sure we're all on the same page and focused. And this week he's just been saying make sure everything is geared toward winning."
As the week continues, Goff said he's not necessarily anticipating there being much difference in terms of how he prepares for the big game on Sunday.
"Today, outside of these 30 minutes [of talking to the media], is fairly normal — pretty normal Tuesday," Goff said. "We have our same schedule. I'll try to keep my same routine."
And it probably helps that the quarterback has a strong support system of teammates and coaches around him, who all feel good heading into Super Bowl LIII.
"We're excited for the game," Goff said. "We've been preparing for this all year, and you start season hoping to get to a moment like this. We made all the additions in the offseason, and came into the year with some hype, and were able to live up to it for the most part, go 13-3, win two playoff games and now we're here. And we're excited for the game."