During his press conference earlier this week, quarterback Jared Goff remarked that running back Todd Gurley has been "quite happy" since signing his four-year contract extension at the beginning of training camp. 
Minutes later, Todd Gurley made his way to the podium for a press conference of his own. And that's when he delivered a classic quote on the subject. 
"Whoever said money don't make you happy, lied," Gurley said, eliciting genuine laughs from the throng of media surrounding him.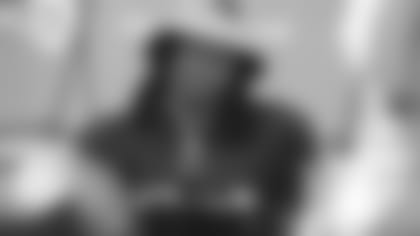 As Gurley turns 24 on Friday, the running back is clearly appreciative of what he's already accomplished in the league. But he also sees what the Rams have in front of them for 2018. 
"[I]t's another year, another year to be blessed to play in this league and a lot of guys know — even the older guys know — it's very hard to get to the third, fourth training camp," Gurley said. "Each year is a special year being able to just come back out here with some of the same guys, but a different group of guys. It's an exciting year for us and we've got a great coach, so we have to take advantage of the opportunity."
That's a significant part of why Gurley still feels as motivated as ever, despite signing his lucrative extension. 
"I mean, that's just how you're born, you know? It's just how you work and I've never heard of that. I don't really pay attention to it, it's just, I got what I want now its keep going, keep going. It doesn't stop, you know, the grind continues," Gurley said. "It's going to be even harder now, obviously, to be able to do what I did last year. I mean, obviously the teams are going to gameplan, so it's my job to go out there and put myself in a great position and try to work hard as I can. And as long as I do that, I feel comfortable with the players around me and the coaches around me to put me in a great position. It's my job to be in the best shape and be ready for whatever coach throws at me."
And head coach Sean McVay has noticed exactly that. 
"I would say this, if anything he's been working harder. I would imagine he'd be able to tell you better than I would. There's probably some sense of relief knowing that he was able to earn that contract. But, by no means has he gotten complacent. He's continued to work even harder," McVay said. "[Y]ou can see the way he finishes those runs. It's a positive problem when you have to tell your back in some of these move the ball, unscripted periods, 'Hey, don't finish all the way down the field because we need you back for the next snap.' But, he's been great." 
As Gurley moves into his fourth year in the league and 25th year of life, he's established a comfort level in this environment, the offense, and McVay. 
"Like I said, coach [McVay] and all of the other coaches do a great job of explaining the install the day of and we have such a great walk-thru, it just makes everyone so much more comfortable just to come out here and just play our game," Gurley said. "You don't have to think about it too much, that's what it's all about. Just come out here, have fun and play the game we've been playing our whole life."
Check out the best shots from Day 7 of 2018 Rams Training Camp at UC Irvine.