Running back Todd Gurley enjoyed a career day in last Sunday's victory over the Broncos, registering 208 yards rushing and a pair of touchdowns en route to the Rams' 23-20 victory.
He received the fourth NFC Offensive Player of the Week award in his career for the performance — an honor he said means a lot to him because the team has now received a handful of the accolades in 2018.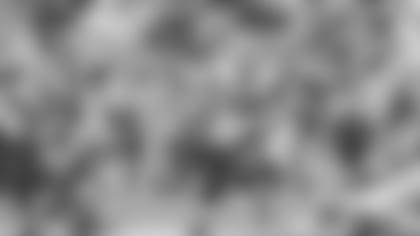 "It just means a lot now, I feel like, because Greg [Zuerlein] got it one time, Blake [Countess] got it, [Jared] Goff gets NFC Player of the Month. So, it's just like — it's good when it's not just like one player just keeps getting it," Gurley said. "It's just like, 'All right, I get it right now. Cooper Kupp or Robert Woods might get it next week.' We're out there having fun and hopefully — obviously, we don't play for the accolades or whatever, but that's what happens when you go out there and just ball out as a team. Whether it's Goff playing lights out like he did on Thursday night or us running the ball like we did the other day. So, hopefully we can just keep it going no matter who it is."
Gurley is having an MVP-caliber season, entering Week 7 leading the league in yards rushing (623), yards from scrimmage (870), rushing touchdowns (nine), and total touchdowns (11).
But he's also been a workhorse, leading the league in carries (129) and total touches (150).
Head coach Sean McVay tries to be aware of Gurley's workload, occasionally paring down on his practice snaps in order to alleviate the stress on his body. But even after 28 carries — and two receptions — last week in frigid Denver temperatures, Gurley said he was feeling just fine.
"I feel good. It was one of those weeks I just felt good," Gurley said Thursday, crediting the offensive line. "I had 28 carries, but they just did such a great job I didn't take too many big hits. So, I felt pretty good."
Gurley said that's not always the case after a game, since it's more about the hits taken than how many carries he has.
"It just varies. I don't know what I had the first game at Oakland, but I felt like I couldn't ever play football again and then the next week I felt fine," Gurley said, tongue-in-cheek. "The last couple of weeks I've been feeling fine. So hopefully I can keep it up and keep feeling that way after the game."
McVay noted on Thursday that he takes the feedback from head trainer Reggie Scott and head strength and conditioning coach Ted Rath on Gurley's reps, and then certainly notes how Gurley himself says he's feeling.
"I couldn't speak for Todd, but I know that the way he's running the football, what a physical player he is, I can only imagine that he's sore," McVay said. "We try to do everything we can, but especially somebody like him that takes the pounding and has the amount of work that he's getting right now. That's something that we want to make sure that we're, number one listening to Todd – how's he feeling."
The object, of course, is to keep Gurley at full strength for a 16-game regular season, allowing him to improve along the way. And to do that, running back Malcolm Brown may receive a few more carries as things go along just to make sure No. 30 is at his best for the season's final quarter and beyond.
"[W]e've got a lot of confidence in Malcolm Brown as well, if he needs to get some work and Todd's not feeling great or want to just spell him throughout," McVay said.
There's reason for that, as Brown has shown he's plenty capable in pass protection. And he's averaging 5.1 yards per carry on his 23 attempts in 2018, along with a pair of receptions for 18 yards.
Nevertheless, Brown gets in only when he needs to. He's played 14.25 percent of Los Angeles' offensive snaps, with Gurley on the field 85.75 percent of the time — including 100 percent of the snaps in the 33-31 victory over Seattle.
"He's got a great play demeanor during the game," McVay said of Gurley. "Seattle game — doesn't really want to come out. He gets into a rhythm the other day. He's a special player and for him to be able to play the way that he has. He kind of gets stronger as the game keeps going.
"But, you also do want to be mindful of the fact that we're six games into a 16-game season. So, him getting stronger as the season progresses is something we talk about and that's predicated on a lot of things, but most importantly, his feedback that he gives to us."
As Gurley continues his terrific season — he's currently on pace for 1,661 yards rushing with 24 rushing touchdowns, 29 total touchdowns, and 2,320 yards from scrimmage — McVay said Gurley has "been instrumental in having us have a lot of production on offense to this point.
"He can do everything," McVay continued. "I think he's a complete back. There's really not anything that Todd can't do in terms of what you ask him."