INDIANAPOLIS – Packers head coach Matt LaFleur knows what it's like to be a full-time offensive coordinator under Rams head coach Sean McVay, having done so in McVay's first season in Los Angeles.
The Rams will have someone in that very role for the first time in three years after hiring former Redskins offensive coordinator Kevin O'Connell this winter. Returning to that arrangement stands to benefit Los Angeles this upcoming season.
"Number one, it freed him up so he didn't have to do everything in terms of all our install or all the film review within, whether it's just with our players. It freed him up to do head coaching duties as well," LaFleur told theRams.com at the NFL Scouting Combine, when asked about the impact of that partnership. "So I think it was more or less just always being on the same page and and somebody that could relay that message, not only to the other coaches, but to the players."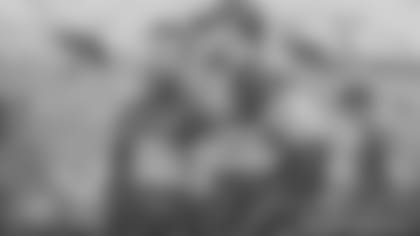 McVay and LaFleur worked together under then-Washington Redskins head coach Mike Shanahan for four seasons from 2010-2013. When they reunited in 2017, LaFleur helped guide Los Angeles to top-10 regular season finishes in total yards (361.5 per game, 10th), passing yards (239.4, 10th) and rushing yards (122.1, eighth). L.A won their first NFC West divisional title since 2003 and reached the postseason for the first time since 2004, then LaFleur was hired by the Titans to be their offensive coordinator for the 2018 season.
"Sean and I had a rapport going back to Washington where we worked together, and so we were kind of trained the same way and grew up at the same time in this profession," LaFleur said. "So we were always on the same page, and he could always bounce stuff off me and I knew where it was coming from. And I think that just to help get everybody on the same page."
While O'Connell and McVay's time in Washington did not overlap, both worked under former Redskins head coach Jay Gruden – O'Connell during Gruden's last three seasons and McVay during his first three. O'Connell joined Gruden's staff in Washington in 2017 – the year McVay left to join Los Angeles – starting out as quarterbacks coach in 2017 before eventually moving up to offensive coordinator in 2019.
Consequently, there's a good chance O'Connell will be able to sync with McVay similar to the way LaFleur did having worked under the same head coach.
"At the end of the day, it's just being an extension of him. It takes a lot to do that," O'Connell said when he was officially introduced earlier this month. "The experience and the success that this offense has had, you really want the players to look at you as an extension of the head coach."
McVay hopes to replicate the regular season success of 2017 – with one exception.
"He's not leaving after a year hopefully, all right," McVay said at that introductory press conference, laughing.