The Rams have added a combined 33 years — or a head coach Sean McVay lifetime — worth of NFL experience to their roster over the last two offseasons by bringing veteran linebacker Clay Matthews and defensive backs Aqib Talib and Eric Weddle onboard, and their head coach sees the additons paying off on and off the playing field.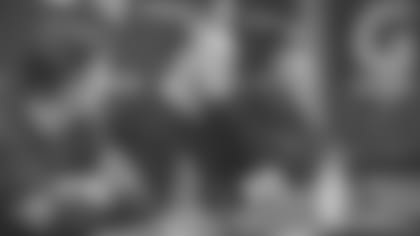 "[T]here's so many things that go on outside the framework that we are exposed to as coaches — and when you've got those players that are influencing and affecting their teammates in the right way and those guys are out there competing in-between the lines — that's powerful," McVay said this week.
At age 32, entering his 11th professional season and first away from the Cheeseheads on the edge of Lake Michigan, Matthews joins the Rams' efforts to defend their NFC West title and return to football's top stage in 2019. Minutes after signing his two-year contract, Matthews spoke about the value of adding seasoned veterans, providing an example of his own experience playing with teammates like former All-Pro safety Charles Woodson, who joined the Packers for his 13th NFL season and won Super Bowl XLV alongside Matthews.
"I think it's huge. Any time you can add an experienced veteran to a team as a free agent coming in off the street, I think it just helps out everybody," Matthews added. "Honestly the players, staff, the coaches — in Green Bay, having Charles Woodson come in, learning from him early on, and [defensive end] Julius Peppers imparting some of his wisdom — it's nice having these studs, these Hall of Famers to come in and be able to impart wisdom on to these other guys and help fill in any gaps and bring the team together."
Veteran experience showed up in Los Angeles on Sundays and in the community in 2018. Left tackle Andrew Whitworth took the lead in supporting those affected by November's Borderline Grill mass shooting and Southern California wildfires away from the game. Between the lines, Talib's impact could be measured — according to Pro Football Focus the defense allowed a passer rating of 74.5 with him on the field Weeks 1-3 and 13-17, compared to 111.6 without the veteran DB Weeks 4-12.
The valuable veterans are hand selected to the Rams roster based on more than hours logged in the NFL. An original adage from defensive coordinator Wade Phillips figures into the calculated decisions to bring on players like Talib, Weddle, and Matthews.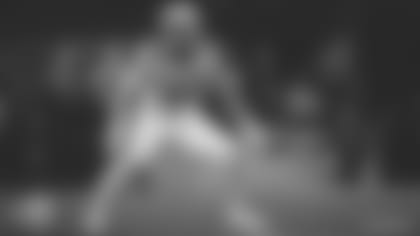 "I think that we want to continue to have guys like that, I think all of those guys are really smart players and Wade said it when we first started working together — smart players get better," McVay said. "And that's really important thing that we look for, smart conscientious players that are passionate about the game of football."