THOUSAND OAKS, Calif. – The unlikeliest of teachable moments began in one of Max Pircher's high school classes.
He was watching an American football video during teacher Matteo Braghini's lesson and got caught. However, rather than punishing Pircher, Braghini – a former tight end for the 2009 Italian Bowl-winning Giants Bolzano – instead decided to take him to a Swarco Raiders game in Innsbruck, Austria and introduce him to the sport.
"I was really lucky, I would say, that I met him, because he took me to a game, and without him, I wouldn't have even known there is some (American) football back home," Pircher, a native of northern Italy, said during a video conference with local and international media in early June.
The experience set Pircher, now a Rams offensive lineman, on his path to professional football.
---
---
Pircher fit that category, having played handball. He enjoyed that Swarco Raiders game Braghini took him to so much, he decided to try out for the team at age 19.
Then-Swarco offensive line coach Lee Rowland, who spent time coaching with Fatah in NFL Europe, told Esume in the same interview that Pircher's size stood out right away, but he wanted to see him run. The latter showed Rowland that Pircher had good mobility, so they progressed to individual and position drills, with Rowland working him out every day.
At that point, Fatah said they weren't thinking about the NFL. They were just hoping Pircher would return next Monday, because when it comes to the best athletes in Europe who show up for those workouts, sometimes they don't come back.
Fortunately, Pircher did.
"I saw what Lee saw, and then obviously we just prayed he was coming back into the program," Fatah told Esume. "And after a while, we moved him into the program."
After one season with the Raiders in which he helped the club win the Australian Football League championship, Pircher was called up to the Italian national team to play a pair of important games against Austria and Switzerland – both victories that helped Italy reach the semifinal round of the International Federation of American Football's European tournament. When Fatah and Rowland were hired by the Hildesheim Invaders of the German Football League in the fall of 2019, they gave Pircher a contract to play for the Invaders.
The work he put in through 2019 would pay off. While training for the 2020 season in Germany, he was contacted by James Cook of the NFL's International Player Pathway Program.
Established in 2017 at the league's London office, the NFL's International Player Pathway Program canvases various amateur sports leagues around the world to identify prospects who are NFL caliber-athletes.
Sometimes they are amateur American football players. Other times, according to Cook, a member of the league's London staff who assists in international football development through the pathway program and NFL Academy, they can be "crossover athletes" who come from other sports like rugby or basketball, like Chilean tight end and former basketball player Sammis Reyes of the Washington Football Team.
The 6-foot-7 1/2, 300-pound Pircher fell into the former category, having played at the highest level of American football in Austria in the Austrian Football League. He also came from an athletic background, having played soccer growing up in additional to handball and other sports.
"Every sport I did helped me a lot, because my parents made me do sports since I was in kindergarten," Pircher said. "Every kind of sport, like, swimming, climbing. I skied a lot. Obviously soccer, handball. You can take from every sport something away, and the most important thing you get from all the sports is the feeling for your body, and learning how your body works and how to use which muscle. It helped me a lot. The handball work, the hand-eye coordination is for sure something that will help me. All of it effects together and brought me here also."
Cook and his NFL colleagues agreed, seeing a player who fit the mold of the type of NFL-caliber athletes they're looking for.
"You've got this really big athlete that has kind of grown up his whole life playing a sport like handball, so he's light on his feet, he has good hand eye coordination, he has this an athletic makeup, you don't often find in guys that size, because they just don't play sports like that generally," Cook said.
Though Pircher was raw when they discovered him, his collection of traits and intangibles projected positively, so much so that he became one of 11 players selected to compete for a spot in the 2021 NFL International Player Pathway Program in January.
"Exceptional size, some really raw developmental traits, some natural strength," Cook said. "Don't get me wrong, he was very raw when we first found him, and there's things to work on, but when you move forward with a prospect like Max, you have to believe that a lot of that is coachable. And fortunately with him, it was and is, and he's going to continue to learn. But he is very coachable, he's intelligent – things that have to be in your favor when you're trying to play catch up like Max is at this point."
---
---
Once those players are chosen for the program, they are brought over to the United States, where they stay from January to April to develop their skills, or work with positional and strength and conditioning coaches at a U.S.-based training facility, similar to a college prospect's timeline.
For Pircher, that brought him to IMG Academy in Florida, where he trained alongside current and prospective NFL players. He and the program's 11 other selections then worked out in front of NFL scouts at the University of Florida's Pro Day.
Cook said he and his colleagues are in communication with teams throughout that process. Every team will receive film from the Pro Day and their time at IMG Academy, as well as verified measurables recorded at the Pro Day. Once teams receive the film and data, they'll come back to the IPP staff and rank the prospects it has put forward.
"They'll discuss, who's the best fit? Why are they a good fit?'" Cook said. "And then we'll of course meet internally as well. We'll discuss who we think could be a great fit as well, and just work with the team to make sure that ultimately the player is being put in the best situation they can to develop, and that also the team is receiving a quality athlete that can hopefully develop, learn and contribute for them within the next three years."
In that vein, Pircher couldn't have landed in a better spot than the Rams.
Four of Los Angeles' five starters from last year's offensive line return this season in 16-year veteran left tackle Andrew Whitworth, seven-year veteran right tackle Rob Havenstein, fourth-year offensive lineman Austin Corbett and third-year offensive lineman David Edwards. Pircher will also get to learn from new Rams offensive line coach Kevin Carberry, who learned under one of the NFL's best offensive line coaches in Bill Callahan.
"I was really impressed when we started practicing here, how the vets are treating the rookies," Pircher said. "They're very patient with us, they teach us everything. If they see something that you could do better, they immediately teach it and they also take the time. Rob Havenstein, Whitworth, Corbs, they're all helping us a lot and they take you (to) the side and show you how you can do those steps better. So we're really thankful for that and we know that's not obvious."
Pircher will remain on the Rams' roster until the end of training camp. At that time, he is eligible for an international player practice squad exemption, providing L.A. an extra practice squad member who is ineligible to be activated this season.
Even if he won't see action in a game this season, he will still have a strong learning environment to continue helping him develop as a player.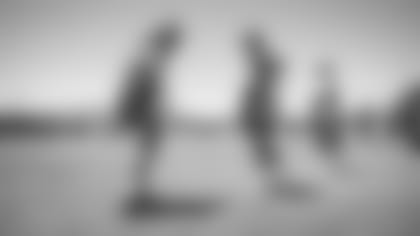 ---
---
Some of the notable players who have come through the program and are currently on NFL rosters include Patriots fullback Jakob Johnson (Germany), Eagles offensive tackle Jordan Mailata (Australia) and Bills defensive end Efe Obada (U.K.). Their success in turn has paved the way for players like Pircher to get a chance.
If Pircher and the Rams both have a positive experience, it could help NFL International create more of those opportunities in the future.
NFL International Chief Operating Officer Damani Leech told theRams.com in a phone interview Thursday that they're currently working on enhancing their scouting capabilities to bring more prospects into the top of the evaluation funnel. They also want to make their annual international combine – first held in Australia in 2018, then Germany in 2019 before the COVID-19 pandemic hit – a bigger part of the international calendar.
"How do we get more players in there so that then we have a larger number of players coming in at the end as an output?" Leech said. "Right now we've been doing four players per year being allocated, and that's largely driven by the quality of talent. We want to make sure when the Rams get a player like Max, that their first impression of him is, 'Okay, we see some talent here that we can develop.' Getting to a point where we can allocate eight players instead of four in a given year would be great, and continuing to expand that to the point where one day maybe we're doing one player per team every year. I don't know how feasible that is, but we do want to try to enhance and expand every stage of the process."
Pircher – who said in May he is now at 315 pounds – is working to do his part. For the time being, he said his goal this year is to become the best football player he can and learn as much as possible from his veteran Rams teammates and coaches, while also improving and working to play as soon as possible.
Training camp is the next phase in showing what he can do.
"I've heard really good things (about Pircher). You see the movement, the natural athleticism," Rams head coach Sean McVay said during a June 4 video conference. "From a competitiveness (standpoint), when you go offense versus defense, training camp will really serve as the best opportunity to truly give Maximus, as you would say, a full evaluation. And so (I've) been pleased. He's got a great demeanor about himself. Really like the way he's got that good look in his eye, and looking forward to probably having a better evaluation when we can really physically see these guys compete amongst one another. He's done a nice job with Coach Carberry, Coach (Nick) Jones, and Coach (Zak) Kromer."