The Rams swapped a pair of future picks to Jacksonville for a bonafide edge rusher in outside linebacker Dante Fowler Jr. just before the trade deadline last season.
The move added a layer to the already-dangerous Los Angeles pass rush and paid off for general manager Les Snead and the Rams, who advanced to their first Super Bowl since the 2001 season.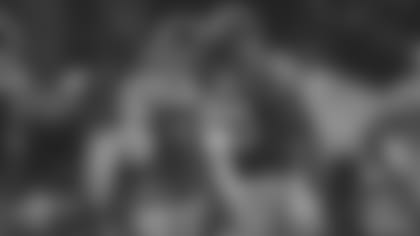 Fowler's contribution was fruitful enough for the Rams to return the former No. 3 overall pick for the 2019 season. Less than two weeks after nabbing Fowler, the club added veteran linebacker Clay Matthews — completing a pair of moves that could make the life of an interior lineman that much easier.
"I was kind of licking my chops. You get two edge guys who can rush on the edge and they are great at it. It opens up those one-on-ones for you on the inside," defensive tackle Michael Brockers said, before adding that he might not be the only one happy to see Fowler or Matthews coming off the edge. "I know [DT Aaron Donald] was looking at it too like, 'Oh my gosh.' You can get those tackles off of you and stuff like that."
Donald posted 10.5 of his record-breaking 20.5 sacks after Fowler aligned with the L.A. defense ahead of Week 9.
As roles remain to be defined in coordinator Wade Phillips' defense heading into 2019, it seems the Rams have made moves to ensure opposing offensive linemen will once again have their hands full with the front of the L.A. defense.