When it comes to the potential availability of wide receiver Cooper Kupp, there's good news and bad news.
While head coach Sean McVay said Kupp is considered "day-to-day" with his knee injury, McVay also noted, "probably, at this point, he's doubtful for the game."
"But," McVay continued, "he is making good progress. He was in really good spirits. And just from talking to him, you can tell that he's feeling a lot better than maybe what initially those first few days after that game was — after the Denver game, how he was feeling. So I think he feels like he's making good progress, and that's encouraging. And you can just sense that in his demeanor and just talking to him about it."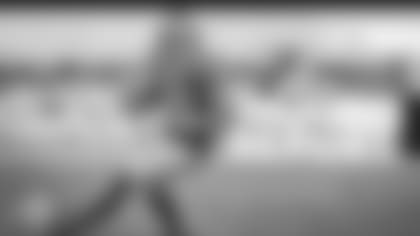 The Rams had only two other players listed on their injury report. Neither defensive lineman Michael Brockers (shoulder) nor defensive lineman Ndamukong Suh would have practiced on Wednesday had L.A. going through a full session. As they have many times under McVay, the Rams held a walk-thru on Wednesday instead of a practice to alleviate stress on the players' bodies.
"We're pulling back the reigns a little bit," McVay said. "Just based on the way we've approached the last couple weeks, I think our players' ability to emphasize the above-the-neck, get a lot more reps than we would otherwise, and really kind of get ourselves a chance to fully recover and really ramp it up tomorrow [for Thursday practice] has really served us well the last couple weeks. And I think that also gives guys a chance to really have almost a full 72 hours postgame until they're really hitting it again and going full speed with the pads on and things like that."
On the other side, wide receiver Randall Cobb has been sidelined by a hamstring injury since Week 3, and wideout Geronimo Allison has missed Green Bay's last two games with a hamstring injury as well. Both were limited in Wednesday's session, and McVay said L.A. is preparing as if they will both be back.
"They're coming off the bye where they're going to be healthy," McVay said. "Getting Cobb and Allison back will be a big boost to those guys."
Below is the full Wednesday injury reports for both teams. Los Angeles held a walk-thru instead of a full practice on Wednesday.
DL Michael Brockers (shoulder)
CB Jaire Alexander (groin)
WR Geronimo Allison (hamstring)
CB Bashaud Breeland (hamstring)
WR Randall Cobb (hamstring)
WR Equanimeous St. Brown (knee)