Minutes after head coach Sean McVay and general manager Les Snead introduced safety Eric Weddle to the Los Angeles media, the pair left the media room at the Rams practice facility in Thousand Oaks, Calif. as their rising third-year safety entered.
"We had been texting, we talked a lot, just getting to know him a little bit," safety John Johnson told reporters after sharing a fairly staged handshake with Weddle in front of the podium backdrop, providing the opportunity for cameras to capture the moment.
"He said he was going to be up here today, so I came up here," Johnson added.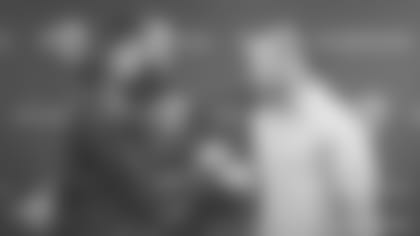 A text message brought the budding star to the Rams practice facility to meet Weddle on Tuesday morning, but it wasn't the first time the pair had spoken.
"I reached out to 'JJ' as soon as I signed here and just let him know, 'Can't wait to get to work with him.' You know, the same stuff. Just excited for him. I've watched a lot of games. I stole McVay's iPad when I signed here so I could watch some film," Weddle said. "He's pumped. We all are."
And while Johnson admitted to not following Weddle's most recent three seasons in Baltimore as closely as the six-time Pro Bowler's days in San Diego — perhaps a result of launching his own professional career — he was able to break down his new teammate's skillset, after recalling watching No. 32 with the Bolts back in high school and even middle school.
"He's just an all-around player, he can do it all," Johnson said. "He blitzes, he can cover, he can play the middle post, so he can do it all — and that's something that I like doing, I pride myself on, is doing it all. So it will be a good mix of everything."
And Weddle likely agrees, or at least that's what the smile that came across his face suggested when his head coach sat next to him and listed the names that now grace coordinator Wade Phillips' secondary.
Johnson, cornerbacks Aqib Talib and Marcus Peters — Nickell Robey-Coleman — and now Weddle.
"[T]hose are five instinctual players that I know our DB coaches in the back are excited to get to work with them — with [cornerbacks coach] Aubrey [Pleasant] and [safeties] coach [Ejiro] Evero. It's a very good day for the Rams and glad to have our guy Eric with us," McVay said.
"Oh he fits right in. He's his own guy, his own personality, he won't hide it," Johnson said, after rocking multiple hair colors in 2018. "Like you said, he's got a beard thing going on, hopefully he grows it back out. I think he fits right in with the personalities that we already have."