On Saturday, the Rams downed the Texans 21-20 in the third game of the preseason, and for the second consecutive weekend, a scrum of media members gathered behind a refrigerator-sized Gatorade cooler in the Rams' locker room at the L.A. Coliseum.
The cooler sits smack in front of rookie running back John Kelly's locker, and is becoming a bit of an inconvenience for anyone interested in hearing about Kelly's big games.
Kelly scored two of the Rams three touchdowns against the Texans in preseason Week 3, contributing to the Rams' highest scoring game of the preseason — despite the absence of head coach Sean McVay's offensive starters.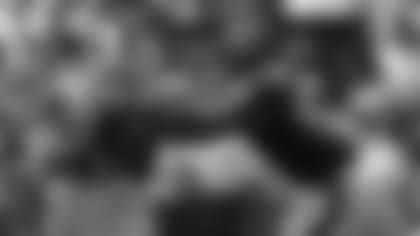 Kelly finished his day with 15 carries and 64 total yards, leading all Rams' rushers. His third performance as a professional was consistent with his first two, providing strong support off the L.A. bench and running with purpose.
"It's a trust thing," Kelly told reporters when asked what he's proved to McVay's staff. "So, I've got to constantly go out there and stay consistent. That's really about it — just make sure I stay consistent on executing the plays, knowing my plays and whenever I get out there I've got to just make sure I'm able to take care of the ball, like you said, and just finish, really."
In Kelly's professional debut, he snapped off a 40-yard run against the Baltimore defense on a night when McVay's offense was largely ineffective at best.
A week later, Kelly scored his first professional touchdown, contributing to the Rams' first win of the preseason in front of a black and silver Coliseum.
So what are the chances of Kelly joining superstar Todd Gurley in the running backs room all season long?
"I think he's certainly making a case. He's done a really good job," McVay said when asked about Kelly's name appearing on the 53-man roster. "Good runner, good, confident player. He's got a nice – just good play energy where he kind of brings guys around him where guys get excited playing with him."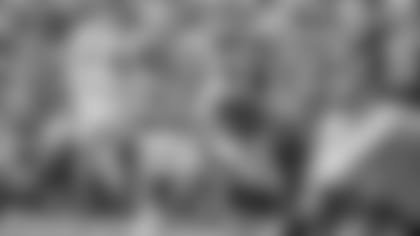 Kelly certainly appears to be comfortable having his name called in McVay's offensive huddles. The University of Tennessee product credits his level of comfort to his teammates and good old-fashioned practice.
"I learn from a great group of guys," Kelly said. "So, it always comes from practice – just being able to get a good feel for the offense while we are taking reps at practice. Whether it's with the 1s, 2s, 3s — it really doesn't matter. I just want to make sure that whenever I've got to go out there and execute a play, I'm going to do what I'm supposed to do."
In preseason Week 3, Kelly also seemed a bit more prepared for the attention that comes with performing well on football's highest level.
Following his performance a week ago against the Raiders, Kelly reacted to a the collection of cameras in his face with a surprised "Yoooo!" accompanied by an equally nervous and excited smile.
On Saturday, Kelly took the attention in-stride, cooly explaining his highlight of the day — a 15-yard touchdown carry on 3rd-and-15 late in the third quarter.
"Well, I saw the linebackers back a little bit, trying to play the sticks," Kelly said. "So, I was like, 'Oh, they don't think we're going to score.' So, I just took advantage of the soft spot. My linemen, they did a great job blocking up front, gave me a one-on-one with the safety. I was able to make him miss, so shout out to my o-line on that one and those receivers that were blocking on the perimeter. So, it was a well-executed play."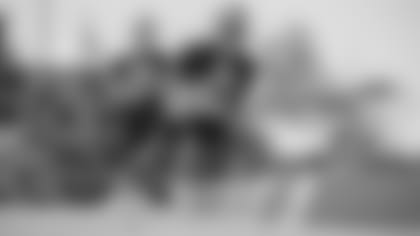 "Making him miss" is a bit of an understatement. In the run, Kelly spun from the grasp of corner Bryce Jones, and pulled Texans' safety Corey Moore across the goal line with him, Moore hanging on Kelly's leg.
The run exemplified Kelly's preseason thus far, confirming not much can stand in the way of him making a name for himself — not even a Gatorade cooler.