The Rams have been unlucky at their returner position so far in 2018. 
All-Pro Pharoh Cooper was sidelined by an ankle injury in Week 1. And the man who Los Angeles signed to replace him — JoJo Natson — went down with a broken hand during Sunday's victory over the Chargers. 
Enter wide receiver Cooper Kupp — who will take over punt return duties on Thursday as L.A. goes against Minnesota on a short week.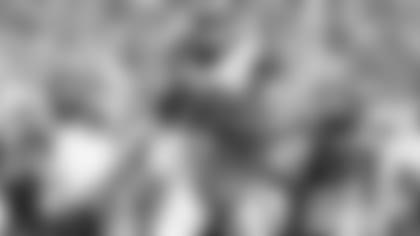 "I think sometimes this week requires a little bit different approach," head coach Sean McVay said. "I think because it is a short week, because of the consistency that you feel that Cooper will be able to field that ball, [that's why Kupp will return punts]." 
Kupp has plenty of experience in that area, having done it quite successfully at Eastern Washington. Back in college, Kupp returned a punt for a touchdown in each of his sophomore, junior, and senior seasons. 
"It's really unfortunate having Pharoh and JoJo go down," Kupp said this week. "But, it's next man up. Go do your job and prepare to be the best that you can be on Thursday night now. And [I'm] super comfortable stepping out there." 
While Kupp simply fair caught the one punt he was on the field for against the Raiders in Week 1, McVay said the Rams may look to stay aggressive on the return unit. Considering how vital Kupp is to the offensive unit — he's played at least 97 percent of the offensive snaps in each of the first three games — that is somewhat of a risk.
"If he gets an opportunity, we'll always try to compete to do the best thing that we can from a production standpoint," McVay said. "You see when the ball is in Cooper's hands, he's able to create and get vertical and he knows how to naturally work edges on people as well." 
And not that this game has any special meaning for Kupp and the Rams, but the offense did have its worst performance of 2017 against Minnesota last year. And Kupp in particular had a few uncharacteristic plays, with a fumble coming near the goal line and a drop that would've put L.A. in field position. 
Kupp said he did review the tape of that contest this week, but he realizes things are different now — for both teams. 
"Yeah, you watch what they've done, what they've done before. Obviously a lot of stuff as an offense that we want back — a lot of stuff that I want as an individual, plays that you want back," Kupp said. "But at the same time, you learn from those things and you move forward. And it's more about trying to see what kind of coverage, what kind of little nuances to their game they might've put in up against us last year. But we're a new team this year and what the 2018 Rams are about is different than what the 2017 Rams were about. So we're just going to go out there and handle our business."