COLORADO SPRINGS, Colo. — So, this is the week. It's the one everyone and their brother and their mother and their sister and their cousin believes cornerback Marcus Peters has circled in red sharpie on his calendar.
Red being appropriate in more ways than one — this being the week Los Angeles takes on Peters' former team: Kansas City.
The Chiefs drafted Peters. They gave him his first shot in the NFL. Peters was AP Defensive Rookie of the Year back in 2015 for them. He picked off 19 passes, forced five fumbles, recovered five fumbles for that team — becoming one of the most dynamic defenders in the NFL.
But Kansas City also suspended him for a game last December. Then the organization traded him to Los Angeles in March.
So, knowing all of that, what does Peters think of taking on his former team?
"We're playing football against the Kansas City Chiefs," Peters said on Thursday. "It's just another football team we've got to play against."
Something has to stand out about his tenure with K.C., right?
"I had fun. I started off with an amazing chance to be able to play football in the NFL. I enjoyed it," Peters said.
OK, but what about the way it ended?
"Let me ask you — how did it end?" Peters replied to a reporter who asked him just that.
"Well," the reporter replied, "they traded you."
"Yeah, so I can't do nothing about it. I didn't ask for it, you know?" Peters said, and by all accounts, that's true. "So, like I said, I appreciate everything that the Kansas City Chiefs did for me and my family, giving me an opportunity to play in this league. Now I'm loving and enjoying being an L.A. Ram."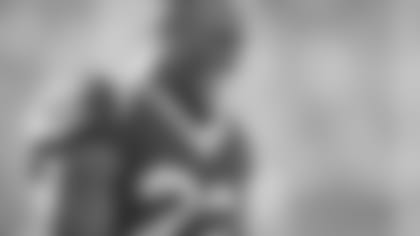 By all accounts, that's true, too. And those around him seem to enjoy Peters' presence, with head coach Sean McVay saying on Thursday that he hasn't experienced Peters being difficult to coach — though that was the corner's reputation when he arrived in L.A.
"I haven't seen any of that. I think the one thing that I really appreciated in my dealings, personally, with Marcus is how receptive he is to being coached," McVay said. "He's clearly a very smart, instinctual player. He's got a good feel for the game, he's passionate about it, and I think that I've been able to learn some things from him, and enjoyed being around him. And I think what we've seen from him is a mentally-tough player, physically he's extremely talented. And really enjoyed the time with him and continue to look forward to working with him in the future."
Nevertheless, McVay noted that he will likely talk with Peters about facing his former team — though it'll fall into the category of the regular dialogue he usually has with the player.
"Certainly you don't shy away from the fact that there's some elements that he's got a history there, did a lot of great things, he's got close friends on the team and a history, and a lot of relationships," McVay said. "So I don't think you ever shy away from those conversations."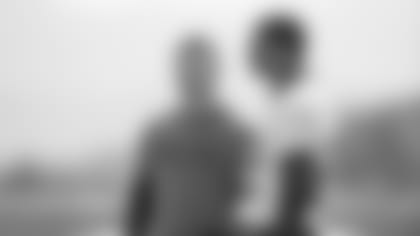 Peters still has a lot of friends on the Chiefs, naming numerous members of the defensive unit that he's looking forward to seeing.
"They're my dudes, you feel me? We were brothers when I was there," Peters said, "and they're still going to be my brothers off the field, so it don't matter."
Peters may have been a bit more subdued than usual in this media session, and he divulged that quarterback Jared Goff had told him not to curse in this particular environment. And so even though he may have been keeping some things inside when it comes to his feelings about his former team, he was effusive in his praise of Chiefs quarterback Patrick Mahomes.
The corner went against the signal-caller every day in practice last year, with Mahomes serving as the scout-team quarterback as a rookie behind starter Alex Smith back in 2017.
"He's an excellent player — that's why they took him where they took him at, when they traded up with them having Alex [Smith] at the time," Peters said. "I seen all the tools that he had — that you guys are seeing right now — in practice all year last year. So, like I say, you respect the young man for what he's doing in this league right now, and you go play football."
Go play football. Even on a week like this — that's all Peters says he's planning to do.