As head coach Sean McVay sat down in his seat for his joint press conference with general manager Les Snead, he made a joking-but-not-joking kind of remark:
"Wouldn't have felt right if we had to pick tonight."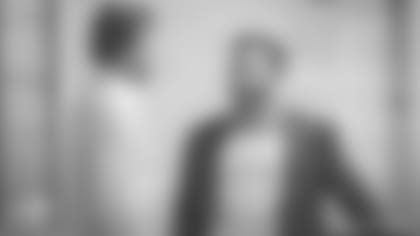 For the third-consecutive year, the Rams went without a pick in the first round of the NFL Draft. In 2017, that pick had already been shipped to Tennessee as part of the deal to move up to No. 1 in 2016 to select quarterback Jared Goff. In 2018, that first-round pick went to New England as part of the package to acquire wide receiver Brandin Cooks. And on Thursday, the No. 31 overall pick went to Atlanta in a deal for No. 45 and No. 79 in Friday's second and third rounds.
Add it all together, and the Rams haven't picked a player in the first round since McVay got hired as Los Angeles' head coach.
"It feels par for the course," McVay said. "There's going to be a lot of really good football players that are drafted tomorrow for a lot of different teams. And we're very hopeful that with the way that we've got this thing set up, and what we anticipate for tomorrow and kind of what the game plan is, that we feel really good about the four players. And we are going to feel good just based on the entirety of the way that our top 100 is set. And that's the thing that you feel great about."
By trading back on Thursday night, the Rams now have four picks in the top 100 — as opposed to the three they had entering Thursday night. That was a significant part of why L.A. ended up trading with Atlanta for that particular package of picks.
"We knew the pool of players that we might be dealing with," Snead said. "So you always have, OK, there's a few favorites that if they did fall — you didn't project them to — that maybe you hold pat and hit. But if those chosen few didn't, we felt it would be better to add another third-round pick and have, at the end of the day, four picks in the top 100 instead of just three. So that was the rationale behind that move."
"The good thing is, a lot of the things that we anticipated ended up playing itself out. It kind of went according to what we had thought in a lot of instances," McVay said of the first round. "There's always a couple surprises, but I think like we had talked about over and over, there was a lot of different scenarios that we had played through — this was certainly one that we anticipated. And, again, it's something we feel really good about."
So now the Rams go into Friday with the chance to (at least) draft a player in the second round, and three players in the third. And L.A. has found success with its third-round picks in the Snead/McVay era, with wide receiver Cooper Kupp and safety John Johnson leading the way.
According to Snead, the team's penchant for being able to find high-quality players in that area of the draft does make the club more apt to gain selections there.
"I think it's a big part," Snead said. "Again, that's subjective, we've still got to draft right and develop right. And sometimes you might scout right and then you know that, wait a minute, there might not be players at the positions you prefer that are worthy, and maybe if you felt that way, you might hold pat and pick. So that definitely plays into it."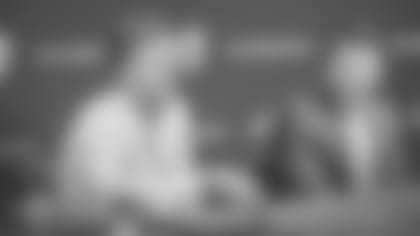 But as for tomorrow's selections, Snead said there are "definitely" players still on the board that Los Angeles has significant interest in. And he anticipates there being a group of incoming rookies to choose from for each Friday pick.
And the fact that the Rams have already invested two years into building their program with Snead and McVay at the helm puts the club in even better position for the draft.
"I think we can be a little bit more specific and strategic now going into year three," McVay said. "So you're able to make those kinds of decisions to move back, get more players because there's a good pool of guys. And a lot of the specific things that we're looking at, really, for our football team. And I think that approach enables us to really be intentional approach about the four guys that we'll end up [with] — or however it plays out. So that's a good thing for us."
The second round of the 2019 NFL Draft will get underway Friday at 4 p.m. PDT.