The Rams have experienced a wave of change since head coach Sean McVay took over in 2017, but one thing has remained relatively constant: the offensive line.
Now looking toward 2019, the o-line is facing its first real shakeup in the McVay era, with the departures of veteran left guard Rodger Saffold and center John Sullivan — exits that leave two holes in the NFL's 2018 Built Ford Tough Offensive Line of the Year.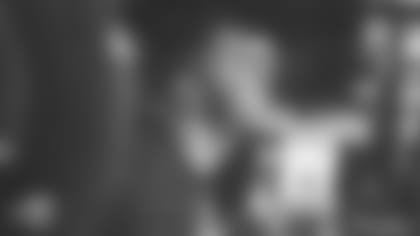 As of now, it seems the Rams have a plan to replace the openings at center and left guard from the inside with second year cross-trained offensive lineman Joe Noteboom, and last season's backup center Brian Allen.
"It's tough to replace them, but I expect those guys to step up," quarterback Jared Goff said on Monday — the first day of the offseason program. "You draft them to hopefully have them play one day, and if their chance is now, I'm excited for them."
Barring no NFL starting-caliber offensive line selection in next week's NFL Draft, it does appear Noteboom and Allen's chance is on the horizon, despite the fact that each player took fewer than eight percent of offensive snaps in 2018.
A lack of game experience for the two young linemen doesn't dent the Los Angeles offense's confidence heading into 2018, and that may be a credit to run game coordinator and offensive line coach Aaron Kromer. Noteboom and Allen are each trained at multiple positions on the line, and received starter's practice reps on a regular basis, when veterans like Sullivan and left tackle Andrew Whitworth took a weekly session off last season.
It's a position group in McVay's offense that has become its own five-member super organism of sorts that continues to evolve under Kromer's forecasting care.
"Those five guys are really a unit and their ability to work in coordination, to understand the calls, the different things that take place, really, outside of what we're exposed to as coaches is something that's going to be fun watching it evolve," McVay said.
"We have a foundational outline of what we want it to look like, but then really the players take it to the heights or the levels that you want it to, hopefully, when they take that ownership on."
Running back Todd Gurley joins his quarterback and play caller in support of the upcoming o-line moves. Set to run through a brand new line after leading the league in touchdowns in 2019, the University of Georgia product says it's all good.
"[I] feel good, man. We've got guys like Brian Allen, Noteboom. And like I said, we've got some of the best coaches and we've got some of the best players," Gurley said in his first media appearance ahead of year five.
"So you know we're all going to help each other out."