PHOENIX – Rams head coach Sean McVay met with the media Tuesday morning at the NFL's annual league meetings, discussing the health of quarterback Matthew Stafford with the offseason program coming up, how Los Angeles is approaching the backup quarterback position, the team's approach to 2023 and beyond, and more.
Here's more on those top takeaways from that conversation: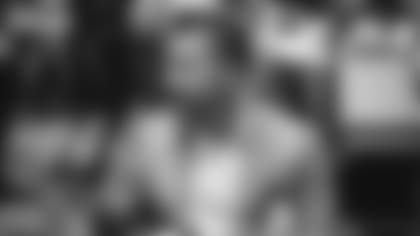 "No limitations" for Stafford this offseason
As the Rams prepare for the start of their offseason program on April 17, Stafford will not have any limitations, according to McVay.
"He'll be ready to roll," McVay said.
Stafford did not throw during the Rams' offseason program last year and was a on a "pitch count" during training camp. During the regular season, concussion protocol and a spinal cord contusion limited him to just nine games (all starts) in 2023, as he completed 68 percent of his passes for 2,087 yards with 10 touchdowns and eight interceptions.
"He'd be better equipped to answer this, but I think it's been a long time since he's been healthy through an offseason where he's been able to throw," McVay said. "I was just with him the other morning where he was in there (in the facility) early, working, being able to do the things that are in alignment with preparing for the season. But he's doing really well. I think last year, there was such a unique combination and collaboration of things that prevented him from being able to play the way that he's capable of, whether it was the things that he dealt with, some of the surrounding parts, missing a lot of time leading up into the season with some of the injuries and just different things that he was working through. So I think there's a lot of guys on our team that will have a renewed sense of urgency and appreciation for just getting back out and competing, and he's certainly one of those guys. We're a lot better football team with him going."
Backup quarterback position will have to be addressed via the draft or free agency
Asked if, given his offensive background, he would want to take a swing on either drafting a quarterback really high or draft a developmental one, McVay said "I don't know that we'll necessarily need to do that" given that there's "a lot of different things" Los Angeles has to address.
"Being able to kind of prioritize those things, and then in a lot of instances, those decisions kind of unfold for you," McVay said. "I think you want to make sure that you have an appreciation for a lot of different players in this draft at a lot of different positions."
McVay compared this year's situation to 2017, in that the Rams need to have an open-minded approach because they have more things to address, versus the previous years (2018-2022) where "you were probably three or four spots away from feeling like, 'all right, you feel really good about this situation.'
"And it's not that you don't feel good, but you have a lot more things that you have to address," McVay said. "So you have to be open-minded. Obviously, Matthew is the only quarterback we have on the roster right now, so in some form or fashion, we have to be able to address that, whether that's via (the) draft or free agency. So those are things that we're definitely monitoring."
"Disciplined" approach to 2023 was "inevitable"
Back in January, Rams general manager Les Snead alluded to the team taking a less-aggressive approach this season compared to previous years, as well as the fact that they've had to part with veteran contributors every year.
That came to fruition in mid-March, as the Rams traded defensive back Jalen Ramsey and released linebackers Leonard Floyd and Bobby Wagner and saw other contributors sign with other teams in free agency.
McVay said when those conversations are had with Snead, Vice President of Football & Business Administration Tony Pastoors and Chief Operating Officer Kevin Demoff, "you kind of understand what's down the road."
"It's something that you've got to have the necessary agility, but it is something that we knew was inevitable," McVay said. "How do we really figure out how to have a more disciplined approach is the way you look at it."
McVay said the Rams have always figured out different avenues to be able to acquire players and construct the most competitive roster. He said it's "always challenging" when moving in a different direction with players who have been instrumental in their success over the years and that those are "tough conversations," but now it's about doing a "great job" with the players they do onboard.
"You got 11 picks in the draft, you never know, you might end up with more than that," McVay said. "And then some of the guys that we might add, whether it's post-draft or pre-draft. But the disciplined approach is something that we knew we were gonna have to do, and never easy, but we're excited about figuring it out the right way."