A month after rising third-year receiver Cooper Kupp told theRams.com that it's been a goal to not talk about being 'on pace or off pace' regarding his ACL recovery, head coach Sean McVay said the Eastern Washington product is right on track.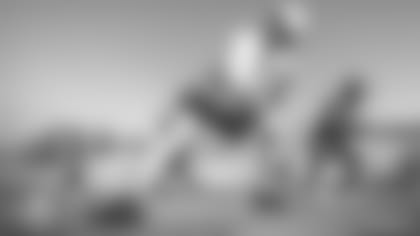 "He's doing great," McVay said on the opening day of the offseason program. "The goal for us is to have him ready for Week 1 — I think he'll be able to do some different things. He's a guy that's attacked his rehab the right way."
About five months removed from having his left knee surgically repaired, Kupp is past the midway point in typical ACL-tear recovery. When he went down Week 10 against the Seahawks, Kupp led all Rams receivers with six touchdowns on 566 yards receiving in eight games — productivity McVay expects his young wideout to match when he returns in 2019.
And the plan is in place for Kupp as his teammates rejoin him at the Rams training facility in Southern California.
"He'll do some things individually, but as far as the specific plan and exactly where he's at — the goal is to have him ready to return to performance," McVay said. "Not necessarily competition, but performance where he's playing at a high level, the level that we're accustomed to seeing Cooper Kupp at for Week 1."