When the Rams beat the Saints in the NFC Championship and advanced to Super Bowl LIII — the club's first Super Bowl appearance since the 2001 season — a 2016 Jared Goff press conference surfaced and circulated.
The then-rookie quarterback stood at the podium winless as a starter. He had just lost his sixth in-a-row — a 22-21 Christmas Eve loss to the 49ers. Goff went 11-of-24 for 90 yards and a touchdown with two interceptions in the game. Facing the end of a tumultuous first year in L.A., he promised that one day everything would be different.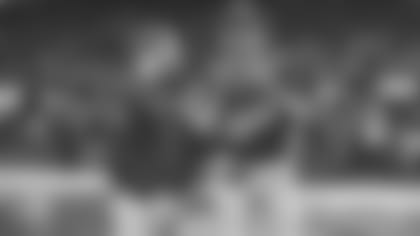 The following season, a breeze of change delighted Rams camp. Head coach Sean McVay was in and Goff had his first crack at a full season of opportunity alongside his new head coach. It was a partnership that took the offensive unit from worst to first in scoring, won the NFC West, and punched a postseason ticket for the first time since 2004.
After a debut season together that seemed to fulfill Goff's promise and then a 2018 campaign that blew the pair's first season out of the water one win short of football glory, McVay says his partnership with No. 16 is continuing to grow.
"I think you continue to learn about your players every single game, really every single day you continue to build and develop those relationships," McVay said. "But what you learned is that he's a guy that got a lot better from our first year together to the second year."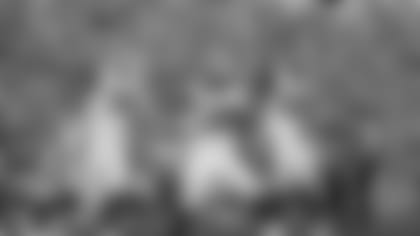 Goff's numbers improved almost across the board in 2018. He reached a career high in completions, yards, and touchdowns year two under McVay, and the head coach has noticed.
After speaking volumes of Goff's leadership through his even-keeled demeanor from the Combine last week, McVay was asked whether or not he believes the 24-year-old has the playbook completely figured out as attention turns toward clocking in together for year three.
"Yeah I do," McVay said. "I think he's got a good mastery of it and I think it's gonna only continue to improve because our playbook is really what our players are best at and every single season is a great opportunity for us as a coaching staff to adjust and adapt our scheme to put our players in the best positions."
Putting players in the position to succeed has been a staple of McVay's coaching philosophy since taking the job in 2017. He then expressed that a successful head coach-quarterback partnership is a two-way street, when describing what develops a team's trust in its quarterback.
"You certainly want a guy that you have full confidence and trust in and can operate in the framework of your system, in the way you want to operate," McVay said, describing the other avenue of a good match.
If a fully onboard quarterback operating in a playbook molded around the players is the recipe for positive relationship, then according to McVay, that's what the Rams are getting heading into 2019, set to return to football after last month's 13-3 Super Bowl LIII loss to the Patriots — when Goff went 19-of-38 with no touchdowns and an interception.
And based on Goff's history — both in college and as a pro — McVay feels like the quarterback is in good position to grow from each experience and improve for the next time he has an opportunity.
"[W]hen you look back just through the course of his career, this is somebody that's overcome some adversity," McVay said. "He's got a nice security to himself to not let some of the outside noise through some of those adverse times dictate the way he responds."