Los Angeles Rams defensive tackle MICHAEL BROCKERS and outside linebacker OBO OKORONKWO are providing support for their hometown during the COVID-19 pandemic.
Brockers and his wife, Faith, recently donated $10,000 to the Houston Independent School District (HISD) Relief Fund to help families who are struggling with food insecurity. As the oldest of five children in a single-parent household, Brockers was often responsible for looking after his younger siblings. He would cook for them, and even assist with their homework before he started his own.
In the midst of a global pandemic that's resulted in millions of Americans filing for unemployment, Brockers has flashed back to the times when he would rely on meals provided at schools. He wasn't going to rest knowing that families in his hometown community are facing similar hardships at an increasing rate.
"I grew up in a single parent home where sometimes we needed those free meals," Brockers told the Houston Chronicle. "Mama would say, 'Hey, did y'all eat at school?' Those free meals … we needed to take advantage of them."
Now with three children of his own, Brockers believes it's even more important to give back during a time of need and to set an example for what must be done when your community needs you.
"For me, understanding it as a parent, that if I didn't have those meals or my kids needed those meals and they couldn't get them…I know how stressful that would be," Brockers told the Chronicle. "Feeding kids means something to me. But at the same time, looking out for the parents and trying to reduce their stress is a big key for me as well."
Additionally, with a mother and sister who work as nurses, Rams outside linebacker Obo Okoronkwo understands the demand for quality care during these unprecedented times. On Sunday, Okoronkwo joined a friend and former teammate to begin donating meals to nurses throughout the Houston area.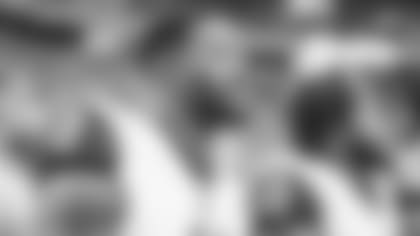 "It's going to be fun," Okoronkwo told the Houston Chronicle before the first meal drop-off. "It's going to be really heartwarming. My sister and mother are nurses so it's going to be fulfilling to give back to those on the front line. We figured everybody loves Turkey Leg Hunt, so we wanted to give them top-of-the-line eats. We just wanted to do something for the nurses and the city."
Okoronkwo and his longtime friend were also joined by musicians Maxo Keam and D Flowers along with Legacy Philanthropy.