The way inside linebacker Bryce Hager sees it, the opportunity before him won't cause him to change his daily approach.
Slated to start in place of the injured Micah Kiser, Hager has been preparing for this role all along.
"From the beginning of OTAs, we were kind of rotating," Hager said. "So from Day 1, I've been seeing myself as a starter and practicing as if I was a starter. You've just got to see yourself as a starter and go from there."
Hager's confidence comes at an important time for the Rams' defense.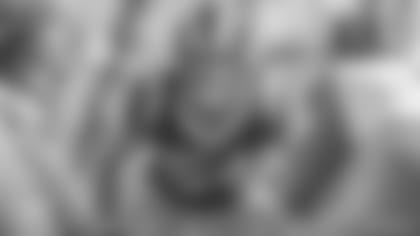 The departure of Mark Barron via free agency this offseason opened up the starting inside linebacker spot alongside Cory Littleton. Kiser was projected to start there based on the team's unofficial depth chart prior to suffering a left pectoral injury, though McVay said Tuesday both Kiser and Hager have been competing for the job.
Still, whether it was Kiser or Hager who ended up getting picked, it was going to be tough to fill the void left by Barron given his experience and production.
In five seasons with the Rams, Barron started in 56 of the 67 games he appeared in, collecting 398 total tackles, 37 tackles for loss, 17 quarterback hits, one safety, nine sacks, five forced fumbles and eight interceptions. Barron was also the Rams' fourth-leading tackler in 2018.
Kiser played in all 16 games as a rookie, posting four tackles, but has yet to make his first NFL regular season start. Hager has played 64 games through his first four seasons, though with only one start under his belt because his contributions have primarily come on special teams.
However, shifting from a reserve role to a starting role isn't as a big of a transition as one would think, according to Hager. It goes back to preparing the right way.
"In this league, as a backup, you have to treat yourself as a starter, because you know anything could happen on a certain play," Hager said. "So as long as you come in and prepare like a starter, there shouldn't be any adjustments."
Besides his mentality, one thing that will likely also help Hager excel in a bigger role is his durability. The former seventh-round pick played a team-high 80 percent of the Rams' defensive snaps as their backup MIKE linebacker in 2018, posting a career-best 14 tackles.
Hager said going into in his third year within the Rams' system and the corresponding knowledge he can share is also something he would bring to the table. 
"We've all seen when Bryce has gotten his opportunities, he's shown that he's deserving of being out on the field and been a really productive player for us, which is why we wanted to re-sign him in free agency," McVay said. 
When Hager signed that one-year deal back in early May, he was perfectly content with continuing to be a special teams contributor for Los Angeles. He knew his role, he said, and any increased responsibilities that followed would be a bonus. 
Looks like his team-first mindset and preparation is about to be rewarded. 
"I'm just fortunate to be the spot I'm in, to be able to be a starter," Hager said.