THOUSAND OAKS, Calif. – The Rams' 2023 minicamp opened with cornerback Derion Kendrick standing out on defense during the team period, quarterback Matthew Stafford making strong throws during redzone work, and an increased workload for wide receiver Cooper Kupp as he continues his ankle rehab.
Here are additional notes, details and observations from Tuesday's practice: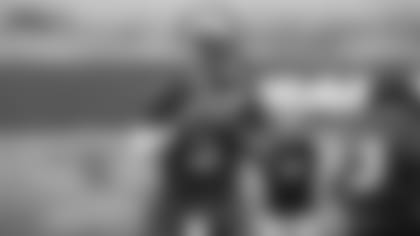 1) Defensive lineman Aaron Donald and offensive lineman Alaric Jackson excused from minicamp: Neither player was on the field Tuesday, but it was because of family reasons that had been communicated well in advance, according to head coach Sean McVay. McVay said both will be "ready to roll" when the team reports to Irvine for training camp on July 25.
2) Other absences: Wide receiver Ben Skowronek did not participate because he's "working through some foot stuff" – for what it's worth, McVay last week mentioned soreness. Additionally, rookie cornerback Tre'Vius Hodges-Tomlinson didn't participate because of a hamstring injury sustained a couple weeks ago, though McVay said it's not going to impact Hodges-Tomlinson's availability for training camp. Offensive tackle Rob Havenstein had a veteran rest day.
3) Step in the right direction for Kupp: The receiver took part in individual drills during Tuesday's session, a bigger workload compared to what he was doing in last week's open practice.
4) Hard to miss Derion Kendrick: The second-year cornerback's instincts were on display throughout team drills. He broke up a deep pass by quarterback Matthew Stafford down the sideline intended for wide receiver Tutu Atwell. During the next period, he anticipated another Stafford throw toward Atwell on the opposite sideline which, had he timed it a fraction of a second sooner, likely would've had an interception. During redzone work, Kendrick nearly corralled an interception after the ball ricocheted off tight end Tyler Higbee's hands.
5) Lasers from Stafford: There was some hard-throwing velocity on Stafford's throws during redzone work. He fired one over the middle to rookie wide receiver Puka Nacua for a score, nearly had another on the following play (pass that went in and out of Higbee's hands), then rifled touchdowns to Higbee and Atwell on back-to-back possessions. The one to Atwell drew audible reactions from multiple Rams defensive backs.
6) Denied: Safety Jordan Fuller timed his jump perfectly to intercept a Stafford deep pass intended for Atwell, only for Atwell to knock the ball from his hands before he could complete the process of a catch. The defense did get one takeaway, though, scooping up a botched toss from quarterback Stetson Bennett to running back Zach Evans during team drills.