THOUSAND OAKS, Calif. – The Rams held their second OTA session open to the media on Tuesday in what became one of the more energetic and entertaining OTAs of the spring.
Here are some of the notes and and observations from it: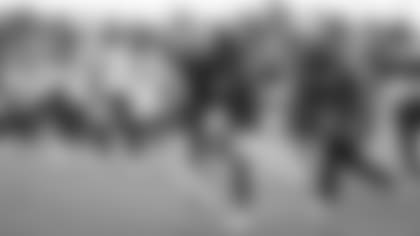 1) Welcome back, Cooper Kupp: The Rams' most-experienced wide receiver returned Tuesday after spending time away from the practice field to tend to positive family matters. "I'm feeling really good now," Kupp said, referring to rehabbing from last year's season-ending ankle injury that required surgery. Kupp mostly worked off to the side with trainers on Tuesday as he continues that rehab.
2) Wide receivers Ben Skowronek and Van Jefferson non-participants: Skowronek and Jefferson weren't out on the field today for precautionary reasons. Head coach Sean McVay afterward said both players are "good," the team is being "smart" with both right now. McVay said foot soreness kept Skowronek out, while Jefferson had a "recovery day."
3) More opportunities for younger receivers like Puka Nacua: With Skowronek and Jefferson not on the field, the absence of those experienced receivers afford more reps to players like the rookie Nacua, who had an impressive catch on a bullet pass over the middle from quarterback Matthew Stafford during team drills and continued to be tested as he has been the last two weeks. Nacua also scored on a short pass from Stafford during redzone work.
4) Defense makes itself heard and seen: Linebacker Ernest Jones broke up a short Stafford pass intended for running Cam Akers in 11-on-11 work which got the defense fired up, since it effectively served as the end of the series before the reserves took the field for the next set of snaps. In that same period, safety Richard LeCounte had a one-handed pass breakup that also fired up his teammates. There were other instances, in the cases of safeties Jordan Fuller and Quentin Lake doing their jobs related to coverage responsibilities that resulted in snaps won by the defense, that kept the energy going.
5) Carrying that energy over into the redzone period: It was fitting that during redzone work, Jones kept an energetic Rams defense going by contesting and preventing a touchdown in the corner of the endzone on a Stafford pass that wasn't caught in bounds by running back Kyren Williams. The defense made two more stops in a row for three straight in total. Undrafted rookie safety Tanner Ingle fed into the defense's energy further with an interception against rookie quarterback Stetson Bennett.
6) Offense fires back: As well as the defense did in the redzone period, the offense still had some impressive responses. Stafford hit Nacua for the aforementioned touchdown, then tight end Tyler Higbee for another score on back-to-back plays, then Bennett threaded the needle for a short touchdown pass to Williams over the middle.