A few uncharacteristic performances by the Rams hasn't changed 49ers head coach Kyle Shanahan's opinion of the team heading into Saturday's game at Levi's Stadium.
"I thought they were pretty good then and I see them pretty similar now," Shanahan told Los Angeles reporters on a conference call this week. "I think they've been one of the better teams here over the last month. I thought they were playing pretty good when we played them last time."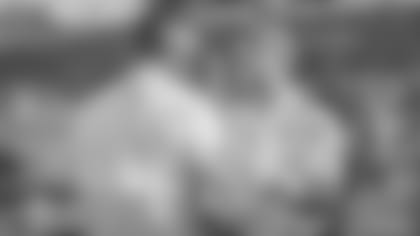 The last time was Week 6, a 20-7 win for San Francisco at Los Angeles Memorial Coliseum, featured two different teams in terms of personnel.
L.A. played without starting running back Todd Gurley and linebacker Clay Matthews, who were sidelined by injuries. Its offensive line has since lost three starters to injury.
Its secondary has changed due to injuries and trades as well. Cornerback Aqib Talib, who didn't play against the 49ers because of a rib injury, was placed on injured reserve and later traded to the Dolphins. Cornerback Marcus Peters was traded to the Ravens, helping pave the way for a trade with the Jaguars for cornerback Jalen Ramsey. Safety John Johnson III was placed on injured reserve. Fourth-year cornerback Troy Hill and rookie safety Taylor Rapp have emerged as starters.
The 49ers, meanwhile, acquired wide receiver Emmanuel Sanders the same day the Rams acquired Ramsey.
"I know they added Jalen, I know they got Clay back, which helps a ton," Shanahan said. "I think their defense – you take away a couple games this year, the Baltimore game and stuff or maybe Tampa, where it statistically got out of hand and they're without a doubt a top-five defense."
Additionally, after the seven-point output against the Niners, the Rams averaged 22.4 points per game over their next eight games. Combined with the Rams' improvements on defense, Shanahan isn't going to underestimate them.
"That's why I think if they can find a way to get into the playoffs, they're going to be as scary as any team," Shanahan said.
Beyond the new additions and returnees, there's also the fact that Los Angeles has never lost two games in a season to a division opponent in the McVay era.
"I mean Sean is as good as it gets. Sean's one of the top coaches in this league – does a hell of a job," Shanahan said. "... Sean's a good coach and he's got a real good team. So, it doesn't surprise me the stats you just said, but I know Sean's always going to give them the best chance."
What else the 49ers are saying about the Rams...
"During his tenure with the Rams, Gurley has proved to be a tough player for the 49ers to contain," 49ers digital media coordinator Matthew Asher wrote. "Gurley has rushed for 423 yards, caught 16 passes for 87 yards and scored eight total touchdowns."