Third-year Ravens cornerback Marlon Humphrey preferred to keep the advice shared to him from Rams safety Eric Weddle private, but he was still willing to publicly acknowledge how much the 13-year veteran has had an impact on his career.
"Weddle has been a big influence on my growth," Humprey told Baltimore reporters this week. "Even though he's not here, a lot of things he would say, a lot of things he's told me, are things I still try to work on and get better at."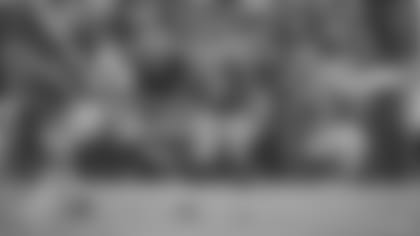 Appreciation for Weddle's three-year tenure with Baltimore, and what he accomplished during that time, was shared by both players and coaches this week as the Ravens prepare to face the Rams on Monday Night Football.
Prior to signing a two-year contract with the Rams this offseason, Weddle amassed 220 total tackles, 10 interceptions and three forced fumbles in a Ravens uniform. A Pro Bowler in each of those three seasons, he also started 48 out of a possible 48 regular season games during that span.
What Baltimore head coach John Harbaugh remembers most, though, had nothing to do with Weddle's stats or accolades.
"Lots of things," Harbaugh said on a conference call with Rams beat writers this week. "Probably, the biggest thing is the morning workouts we had. We were in there, 5:30, 6 a.m., working out every day. His amazing enthusiasm – you can hear him coming in the room, that's for sure. He'll let you know. I think he kind of jumpstarted us all that way."
Harbaugh also recalled his family being around the facility often.
"The second thing would probably be his kids, man," Harbaugh said. "His kids came over a lot and they're just great – I love those guys, those kids. Boys and girls, he's got a big family and they're stars. They'd come over with their purple hair, stuff like that."
Weddle still remains loyal to Harbaugh and the Ravens even though he no longer plays for them. When asked this week if he would share any of Baltimore's secrets to help Los Angeles heading into Monday night's game, Weddle since August has twice said he would not out of respect for his former teammates.
Ravens QB Lamar Jackson said he isn't surprised by the gesture.
"Eric is a great guy," Jackson told Baltimore reporters this week. "He brought a lot to the team last year. He's very smart. He put the players in places where they needed to be to help the defense out. He's a great leader. I just can't wait to compete against him."
Through 10 games with Los Angeles, Weddle's 72 total tackles are the most he has recorded in a single season since collecting 89 in his first year with Baltimore. That tally is second-most among all Rams defensive players behind LB Cory Littleton's 82.
"He's playing really well, he's playing like he always has," Harbaugh said. "I don't think he's skipped a beat one bit there and I can see where his leadership and his playing style has made a big impact on the Rams."