As part of our offseason lookback, theRams.com will be taking a look at notable grades and performances for Rams players from scouting service Pro Football Focus (PFF).
First up, the player who finished with the highest offensive grade on the team: Tight end Tyler Higbee.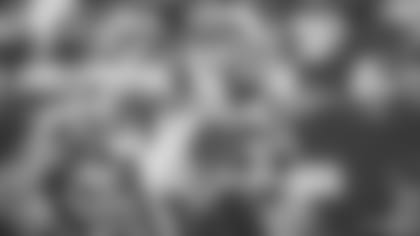 Higbee's offense grade of 85.9 is the third-highest by a Ram in the last three seasons, behind left tackle Andrew Whitworth's 86.1 and wide receiver Robert Woods' 86.4. It coincided with a historic December statistically which helped boost him to his best offense grade of his career.
In that month alone, the former Western Kentucky standout tallied:
43 of his 69 catches
522 of his 734 receiving yards
2 of his 3 touchdowns
His 69 receptions and 734 yards set new single-season franchise records for a tight end. His three touchdowns set a new single-season career-high.
Meanwhile, here were his stat lines during the final month of the season:
7 catches, 107 yards and one touchdown in a 34-7 win over the Cardinals
7 catches, 116 yards in a 28-12 win over the Seahawks
12 catches, 111 yards in a 44-21 loss to the Cowboys
9 catches, 104 yards in a 34-31 loss to the 49ers
8 catches, 84 yards and one touchdown in a 31-24 win over the Cardinals
Higbee registered an 81.6 offense grade or higher in three of his final five games (Week 13 vs. Cardinals, Week 14 vs. Seahawks and Week 16 vs. 49ers). Furthermore, 270 of his 401 yards after catch on the season came during that same stretch.
Those strong numbers likely also contributed to him finishing with a team-best 90.0 receiving grade. A grade of 90.0 or higher in any category is considered elite by PFF.
PFF also charts receiving by direction, including receptions, receiving targets, receiving yards, yards after catch, receiving touchdowns, interceptions,NFL Passer Rating when targeted and drops (on-target passes dropped by the receiver).
According to PFF's data, Higbee did the majority of his damage when targeted short, or 1-9 yards past the line of scrimmage, catching 46 of 52 yards for 394 yards and all three of his touchdowns in that range. He also was effective on screens, too, catching 12 of 13 targets for 111 yards with 142 yards after the catch when targeted behind the line of scrimmage.