The newly covered bleachers surrounding the UC Irvine practice fields were nearly full of Rams season ticket holders, who were invited to an exclusive practice on Friday. One-on-one matchups and 7-on-7 action yielded several "oohs" and "aahs" from the Rams most faithful.
Practice ended with a bit of a competition between head coach Sean McVay's offense and defensive coordinator Wade Phillips' star-studded defense, in which both the offensive and defensive first and second units faced off in a small situational scrimmage.
Just yesterday, quarterback Jared Goff said he was "excited" to face the Rams' new and improved defense on a daily basis. And on Friday, the defense came out on top.
Fans applauded McVay's offense as it paid the price of losing the friendly competition — one cross-field 'gasser' (which was lead by veteran offensive lineman Andrew Whitworth). McVay's offense couldn't get the job done under defensive pressure and quick pass-game coverage, highlighted by the Rams' (physically) largest addition on defense, defensive tackle Ndamukong Suh, who made an impression on McVay.
"We finished up with some competitive, kind of unscripted stuff and I thought it was a good back and forth. Defensively, you could feel Ndamukong — his presence up front with some good rushes," McVay said. "I thought our back-end was contesting throws, making things difficult… it's exciting seeing those guys compete against each other."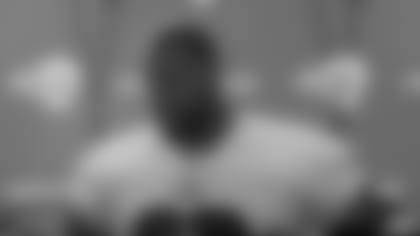 Suh, who happily went over the pronunciation of his first name with newly acquainted reporters after practice, said he's "enjoyed" his time learning a new defense and "believes the sky's the limit" for his group if they come together as a unit.
"I think at the end of the day we've got a lot of talent, but talent means nothing if you're not going to put it together, it's as simple as that," Suh said.
VETS WILL GO EASY ON DAY 3
Both McVay and Talib confirmed high energy entering the first day of practice on Thursday. On Friday, the energy at practice seemed a bit lower, with higher temperatures and less of a breeze in Irvine.
McVay said shortly after practice that he expects Saturday to be a bit easier on many of his veteran guys, as this is the most football played in a while and he'd like to avoid "wearing guys out" early on.
"That's the plan. Plans are pads on Sunday. We anticipate a little bit of a de-load day tomorrow. Kind of our third day in a row, we'll give some of the veteran guys a little less work. They'll get a majority of their work in the walk-thru. Day 4 will really represent a chance for us to ramp it back up again," McVay said.
On Thursday, punter Johnny Hekker tweeted a photo of Phillips rocking a 'Fortnite' t-shirt.
Hekker immediately wrote Phillips off as a poser, to which Phillips cooly defended himself, replying to Hekker by naming several different devices on which Fortnite can be played.
Whether the 71-year-old defensive guru actually plays Fortnite or not, McVay — who was quick to admit he doesn't know what Fortnite is — was even quicker to defend Phillips in Friday's press conference when asked about the shirt and tweet.
"Somebody showed me that and it just continues to epitomise: Wade's the man. Wade's the man," McVay confirmed.